Peanut Butter Wolf
2K8 B-Ball Zombie War
(Stones Throw)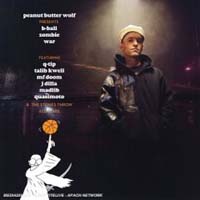 For this compilation, Peanut Butter Wolf's task was simple: Create the soundtrack for "NBA 2K8," one of the world's most popular basketball video games. But he went and got all cerebral and shit.
Appearing: Friday, November 30th at Abbey Pub in Chicago.
Back in the day, video games were simple. You squashed NHL '96 into your Genesis, hit power, and 2 Unlimited's "Get Ready For This" was the only sound you heard (except for five-second organ samples. So we can't really blame PBW. He has to keep with the times and deal with Stones Throw's square-peg roster (Madlib, J Dilla, Quasimoto). He makes fine selections with the big-beat boom-bap of Med's "Break It Down," the island grit coating Guilty Simpson's "Make It Fast," and unearths a true club banger with Oh No's "Action."
But Madlib's "The Wigflip" is typically obtuse, the "Lightworking" collaboration between J Dilla, Talib Kweli, and Q-Tip never gets off the ground, and the disc's back half bugs out as an electro party with not-so-subtle tributes to Mantronix. Gimme some jock jams, yo, and y'all get ready for this!
5
— Steve Forstneger