Michael McDonald
Chicago Theatre, Chicago
Thursday, December 6, 2007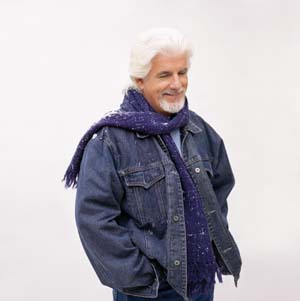 For the past three decades, Michael McDonald has worn many hats, including his time backing Steely Dan, an extensive tenure with the Doobie Brothers, becoming the pre-eminent duet dude of the 1980s (Patti LaBelle, James Ingram), and maintaining a solo career with varying degrees of success. The last few years have nearly literally been a product fest for the blue-eyed-soul switch hitter, starting with the 2003 release of Motown (his double-Grammy-nominated tribute to the early Detroit soul scene), a subsequent Soundstage taping (and DVD), plus the Motown Two sequel.
And just to refresh everyone's memory of his original material, Warner Bros. dropped The Ultimate Collection in 2005 (his first career-spanning retrospective), followed by a tag team with Hallmark (hey, the Beach Boys did it and they're still sort of cool) for Through The Many Winters, A Christmas Album. It's a lot to keep track of, indeed (not to mention recent collaborations with Chaka Khan and Brian Culbertson), but McDonald has always been a multi-tasker who has preserved a fairly dedicated fan base in the process. Sure the pot-smoking, motorcycle-riding crowd of his youth may have grown up (and switched to the smooth jazz stations), but the crooner isn't afraid to touch on all corners of his career in concert.
Yet several questions still remain, like how will the Doobies' oldies but goodies like "What A Fool Believes" and "It Keeps You Runnin'" stand up against treatments of Marvin Gaye's "Mercy Mercy Me" or Smokey Robinson & The Miracles' "Tracks Of My Tears"? Will someone be subbing for McDonald's famous singing partners or will he skip those altogether (after all, Miss Patti is truly one of a kind)? And will there really be much time for Christmas crooning when The Ultimate Collection boasts 19 bona-fide singles? It's hard to guess what the "Minute By Minute" breakdown will be, but a general smattering of McDonald's varied streets is likely in order.
— Andy Argyrakis
Category: Stage Buzz, Weekly