Kottonmouth Kings, Big B
House Of Blues, Chicago
Monday, December 3, 2007
How many decent, good, and great bands have vanished after one, two, or three records because of waning label support, a dwindling fan base, or no fan base at all? Think about it: A lot. Now consider Kottonmouth Kings released their 9th album in August!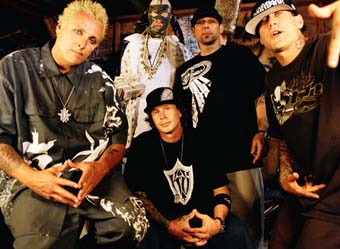 What's more amazing than the fact this Orange County white-boy rap group still moves enough albums to warrant recording new ones (and a "greatest-hits" compilation in January) is that in 12 years they still have absolutely nothing to say. They like to smoke weed. That's it. Cloud Nine, like everything they've done since their 1998 debut, Royal Highness, celebrates the leaf's power. They aren't just stoned couch potatoes, though, dude; they're political. As "It Ain't Easy," "Free Willy" – about Willie Nelson – and "Proud To Be A Stoner" prove, suburban potheads suffer terrible injustices, man, and Daddy X, D-Loc, Richter, DJ Bobby B, Lou Dog, and Pakelika are sick of it. What they apparently don't get is that doing photo shoots with stacks of cash, bricks of bud, and – in Pakelika's case – wearing wrestling masks, isn't exactly a boost for the Legalize It crowd's already undesirable image.
Like their good friends Insane Clown Posse (yep) the Kottonmouth Kings have not only survived despite no originality (and little talent) they've prospered, regularly charting on Billboard and building their own empire via record label Suburban Noize. Among the acts signed to the label are Mondo Generator, Jada Pinkett Smith's metal band Wicked Wisdom, Cypress Hill's Sen Dog, and Cloud Nine Tour openers Big B and Dirtball. You might recognize B as professional motorcross racer/Pink's husband/tattoo-shop owner Carey Hart's errand boy on the A&E show "Inked," but he has been making dumbed-down party hip-hop (his most recent being More To Hate) since 1998.
– Trevor Fisher
Click here to download Kottonmouth Kings' "SRH."
Click here to download Big B's "Hooligan."
Category: Stage Buzz, Weekly