Robert Pollard
Metro, Chicago
Friday, November 30, 2007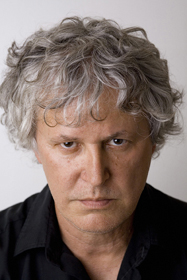 Ohio-based Robert Pollard is a strange creature — one who could drive a wedge between even the best of friends. A love-him-or-hate-him mentality definitely surrounds the former teacher and Guided By Voices leader. His voice and often obtuse lyrics either grate or inspire. He's either the Holy Grail for aspiring DIY songwriters holding nightly practice in their basements or he's just that guy who puts out an insane amount of material.
The prolific songwriter, and when we say prolific we mean it — the man releases songs at a rate faster than rabbits repopulate — has done it again. One album just isn't enough for Pollard; he has to release two and on the same day, no less. Coast To Coast Carpet Of Love and Standard Gargoyle Decisions (Merge) provide fans with a whopping 33 — count 'em — songs to stew over until next week when Pollard will probably shell out a companion box set.
That's why it's hard see Pollard perform and leave satisfied. Undoubtedly the chances of hearing your favorite song dwindle with each release. Fans should take comfort in the fact these Siamese twin albums heartily satisfy. While the quality can't possibly stand up on all 33 songs (which begs the question, why not just put out one stellar record?), most have a an undeniable Beatlesesque charm, including "Our Gaze" and "Miles Under The Skin."
— Janine Schaults
Click here to stream "Supernatural Car Lover."
Category: Stage Buzz, Weekly