Major Stars
Empty Bottle, Chicago
Thursday, November 29, 2007
Indie rock, despite fretboard pyros like J. Mascis and Doug Martsch, can't shake its guitar-weenie reputation. For the most part it's deserved, as columns of college rockers would rather have their taint hairs tweezed than sit through a tremelo-picked single-string run, culminating with a high "E" bent from the 22nd fret. (Somehow blaring feedback and "noise" solos have been granted a free pass.)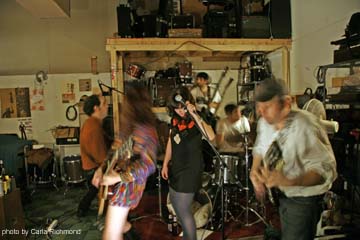 Major Stars, from somewhere in Massachusetts, pay no heed to the rules. With their sixth album, Mirror/Messenger (Drag City), they've added a sixth member and guess what? It's another guitarist. Imagine a pre-breakup Cream where Clapton doesn't sing and has two other fellas to back him up, and you're still not quite there. Because rampant blues-based solos in the Disraeli Gears era couldn't predict Sonic Youth, they didn't ave the foresight to ever go completely bananas. Wayne Rogers, Kate Village, and Tom Leonard, on the other hand, burn so hot you can't tell if you hear the sound of forging steel or an 18-wheeler jack-knifing at 90 m.p.h.
It gives you an appreciation for the task facing vocalist Sandra Barrett, who would be forgiven if she dressed like a whore and shrieked at the top of her lungs for attention. But she has obviously done her homework, howling around "Portable Freak Factory" like Ann Wilson in the moonlight, but perhaps over-souling the Zep-ish proto-metal of the title track.
Flashlights and Dark Fog open.
— Steve Forstneger
Category: Stage Buzz, Weekly