Against Me
House Of Blues, Chicago
Wednesday, November 21, 2007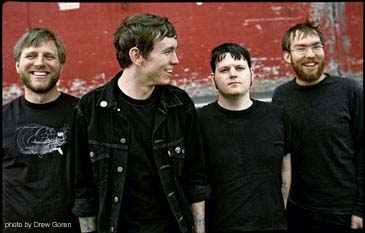 It's often a blessing when punk bands keep their gigs short. Two-minute bursts of three-chord energy keep a moshpit on its toes and explosive, exhausting sets let everyone burn themselves out without fear of overdoing it. Yet at 50 minutes (including an encore) on Wednesday night, Against Me's show felt abnormally "Wait, what time is it?" curt.
Despite ongoing fan rebellions, Against Me (on paper) should have one of the most progressive shows a punk band can offer. While "sellout" accusations plague message boards, Tom Gabel's band continue to take risks with each album, and their first headlining gig in Chicago behind the summer's New Wave (Reprise) seemed the perfect opportunity to rewrite their brief history.
Gabel appeared to have been on that wavelength, roaring "Are you restless like me?!" during the opening chorus of "Up The Cuts." But its bootstomp verses and anthemic shifts remained deep in contrast to thrash-and-burn AM standards "Cliché Guevara" and "Pints Of Guinness Make You Strong." (The band were reserving the acoustic side of their early years for an all-strums show at Metro the following evening.) And so began the greatest-hits-on-shuffle nature of their setlist — each individual performance mustered the whole of the band, yet deprived the audience of a cohesive presentation.
Gabel and co-vocalist James Bowman said little to their fans, opting instead to blast political fireballs ("From Her Lips To God's Ears," "Americans Abroad") and righteous assertments on personal integrity ("Rice & Bread," "Thrash Unreal"). But without banter, it was hard to discern what this concert was supposed to be, aside from a standard attempt to push the new album. It was a Ramones concert without the one-two-three-fours, a blitz for a city ready to bite into nine hours of Thanksgiving football.
After stunning the audience by leaving the stage a mere 40 minutes in, the encore presented a chance for Against Me to tie things together. But if there was a message under "This Shit Rules," "Walking Is Still Honest," and "Baby, I'm An Anarchist" it wasn't more than a tacit "thank you" to old fans who have stuck with them. At this point, those audience members have earned a little more than that.
— Steve Forstneger
Category: Live Reviews, Weekly