Avenged Sevenfold
Got The Time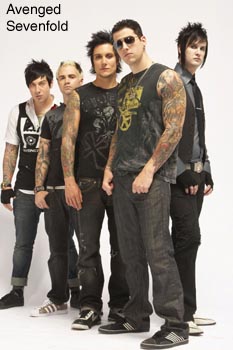 It's 4:15 p.m. and still no word from Johnny Christ.
The Avenged Sevenfold bassist was supposed to call Illinois Entertainer at 3:30 Central time, 1:30 at the band's Huntington Beach, California homebase. Forty-five minutes later, though, still nothing.
Appearing: November 8th at Congress Theatre in Chicago.
A call to one of A7X's publicists at Warner Bros. results in a call to a gentleman in the band's management team, who quickly calls IE apologizing for the tardiness and assures us it was his fault, not Johnny's, before patching the call through to the bassist, who immediately makes amends: "Dude, I'm soooo sorry I'm so late," he says.
It's O.K., we assure him. We once waited nearly two hours for Zakk Wylde.
"Oh well he deserves it, not some shitty bass player," Christ says, laughing.
Genuinely apologizing for a late phone interview? If we may use a sweeping generalization, this isn't like a rock star. And being "rock stars" is how Avenged Sevenfold earned such an unfavorable reputation in some circles. Part of it is undoubtedly their fault, as kids who grew up worshipping bands like Guns N' Roses, A7X have done the magazine photo shoots with naked models, bragged about excessive partying in interviews, and generally made an effort to "live the life" since breaking out with 2005's City Of Evil. On the other hand, they've also done their fair share of interviews where zealous scribes have concentrated solely on their offstage antics and taken too many shots from people who simply don't like the members' stage names or the way they dress.
Heavy metal fans are a funny bunch: They'll worship Manowar or call Rob Halford's studs-'n'-leather look as classic, but torch A7X frontman M. Shadows for wearing sunglasses onstage.
"It's the sad truth," Christ says with a sigh. "When you look at us now, I'm wearing a white T-shirt and jeans, I've got tattoos, big fucking deal, I don't wear a bandanna and funny little girl pants, there's nothing funny about the way I'm dressing.
"It's goofy to get on people for dressing, but at the same time I probably would have made fun of the people who sang 'I Ran.' Who was that? Flock Of Seagulls! Same thing I guess. It's because I'm as much of a douchebag as anybody else," he admits with a laugh.
It's a topic that has haunted Christ and his bandmates — Shadows, guitarists Zachy Vengeance and Synyster Gates, and drummer The Rev — as well as played a significant role in the ongoing "Avenged Sevenfold aren't real metal" argument. What "real" metal is and isn't is a dispute as old as the music itself, but A7X have been challenged unfairly. The band started as a metalcore act, releasing their first album, Sounding The Seventh Trumpet, as teenagers in 2001. It was bad, even by metalcore standards, with the exception of one song: Though not even a minute-and-a-half long, "To End The Rapture" with its soaring guitar (Gates' only appearance on the album) and matching vocals (one of the record's only non-screaming tracks) proved A7X were much more adept playing metal than hardcore. They pushed the formula a little more on 2003's Waking The Fallen and by the time they signed with Warner Bros. for City Of Evil, they were ready to make a full-on metal record. Anyone who paid attention to Waking The Fallen knew the change was the band's natural progression. Still, longtime fans felt betrayed.
— Trevor Fisher
To learn more about A7X's experience with old fans, grab the November issue of Illinois Entertainer, available free throughout Chicagoland.