White Whale
Subterranean, Chicago
Sunday, October 29, 2006
Merge's latest buzz band isn't Arcade Fire II, but kind of a big, music-hall rock band something like if The Band was more E Street and Beck were singing.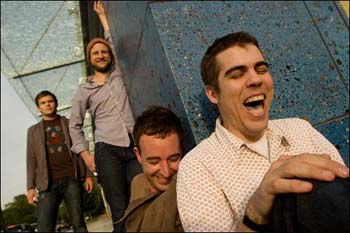 White Whale has the makings of another big catch for Merge, especially considering the popularity of bands that build sounds around talented songwriters who might otherwise be solo folkists. Like Colin Meloy of The Decemberists and Will Sheff of Okkervil River, Matt Suggs is the warm little center White Whale revolves around. (Both a solo Suggs, and his old band, Butterglory, put out records on Merge.) If The Decemberists leans to chamber pop, and Okkervil leans to country, then White Whale leans to spacy, epic rock. One of the band's most distinguishing characteristic on
WWI
is its drunken sailor-like gang vocals in songs like the "The Admiral" and "One Prayer." The sailor vibe is perfect for the oceanic themes that are all over Suggs' lyrics, although White Whale never comes close to The Decemberists' mariner scenes. Still, not bad for five guys who call the very landlocked Lawrence, Kansas their home.
Hot IQs and Moxie Motive open.
— Joseph Simek
Click here to stream "Nine Good Fingers."
Category: Stage Buzz, Weekly