Two Ton Boa
Empty Bottle, Chicago
Tuesday, October 31, 2006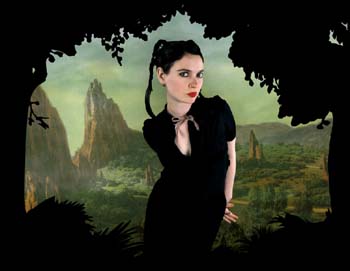 Classically trained Sherry Fraser has a surprise fascination, given all the instruments at her disposal: dual bass guitars.
While there are some serious baroque overtones on her Kill Rock Stars debut, Parasiticide, as prominent is an amelodic, rumbling crush recalling Girls Against Boys. For a world that has finally grasped the nuances of Dresden Dolls, Fraser adds a pelvic thrust to theatrical alt-pop like running P.J. Harvey's Dry through a series of hurdles devised by Butch Vig. Mixing playground rhymes, eerie falsetto, and a fuzz bass that doubles as a lead instrument, tracks like "Herarchy" force their way to the front of the line like a heavy-set mother of five who didn't get the cheese she wanted on her chili fries. Whether she's threatening to "spit you out" or flirting with a heart "as cold as ice cream" that "melts for just one thing," she saunters through Parasiticide with an alacrity that keeps her from being as destabilizing as Polly Jean though equally captivating.
Crush Kill Destroy and The Lepers open.
— Steve Forstneger
Click here to download "Cash Machine."
Category: Stage Buzz, Weekly