FirstJason
Red Line Tap, Chicago
Saturday, October 28, 2006
Ari Lehman, the actor who played the very first Jason Voorhees in Friday The 13th, now fronts a hard rock band named FirstJason? Folks, this is the stuff Stagebuzzes are made of.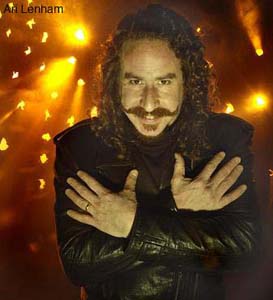 Lehman, now a Chicago native, didn't exactly suppress the memories of playing a young Jason (remember, psychotic knife-wielding Jason didn't show up until Part 2) but he wasn't out advertising it, either. Musically, his work in reggae act the Ari Ben Moses Band occupied most of his time. But horror fans are a rabid bunch, and when they finally tracked down Lehman in Chicago, their enthusiasm convinced him to embrace that mutated boy who drowned in Crystal Lake all those years ago, and FirstJason was born.
If you couldn't tell by the name, FirstJason is an unapologetic tribute to not only the character he played but also to the genre, and culture, of horror movies. That's why you'll hear songs with titles like "Red Red Red," "You Better Run," and "I Never Die." And while FirstJason obviously smacks of novelty appeal (bet yer ass we'll be there with movie poster and Sharpie in hands) it should be noted Lehman is a highly accomplished musician who trained in classical and jazz piano as a child, was awarded a scholarship to the Berklee School Of Music, and studied big band orchestration and jazz piano at New York University. Who says horror movies are for dummies?
Death By Design, One Day Criminal, and The Fuzzy Bunnies Of Death open.
— Trevor Fisher
Click here to listen to a streaming sample of FirstJason's "Sink Or Swim."
Category: Stage Buzz, Weekly