L.A. Guns
Good Times Pub, Elmhurst
Friday, October 27, 2006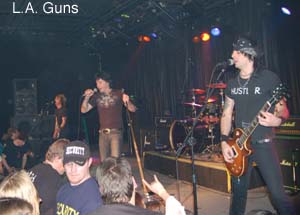 For the longest time, we thought the L.A. Guns booked to play Good Times Pub were the new (or would it be old?) version led by original guitarist Tracii Guns. After much confusion and Web surfing we discovered it's actually the same lineup that have been using the name L.A. Guns for the last four years (since Tracii left the group). Is that better or worse? Good question.
Yes folks, there is now a full blown battle between rivaling factions of L.A. Guns. In one corner you have the Steve Riley/Phil Lewis-led Guns, the ones who will play Good Times. Ironically, nobody in this version (completed by Stacy Blades and Adam Hamilton) is an original member, though Lewis did sing on the band's 1988 self-titled major label debut, and Riley was the drummer on the group's most successful effort, 1989's Cocked & Loaded. And after Tracii's departure Lewis and Riley have been the constants in the band's revolving-door lineup. Maybe they are the real L.A. Guns?
One question, though: What is L.A. Guns without the Guns? Sure, Guns 'N Roses did the same thing, but although Tracii was a founding member of that band as well, his tenure was so short it's hard to put too much into his contribution. But the L.A. Guns were really his band. Or are his band? In the other corner you have Tracii along with vocalist Paul Black, drummer Nickey Alexander, and bassist Jeremy Guns. Unlike Riley and Lewis' gang, this one can actually claim three original members in Tracii, Black, and Alexander. But before you hand them the title, consider Black didn't even record a record with the band, and Alexander only played on the self-titled debut. But, Black did co-write many of the songs Lewis sang on the first record.
Wheew! Too close to call. We're saying draw. At least until we get both bands in one venue for the ultimate steel-cage grudge match battle of the band(s).
— Trevor Fisher
Category: Stage Buzz, Weekly