Los Abandoned, Birdmonster
Schubas, Chicago
Thursday, October 26, 2006
Los Abandoned represent NAFTA at work: signed to Canadian Neil Young's boutique label Vapor, born in Los Angeles, and big in Mexico. If only they could translate their spry, Go-Go's-gone-hyperlectric pop to the gringos.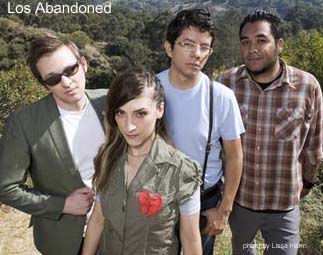 Part of it could be gurl-fronted guitar bands aren't en vogue (just ask the shelved members of No Doubt), but you could argue musicians who need to be swept up in a wave (as opposed to set the rules) probably aren't all that good in the first place. Los Abandoned and their album debut,
Mixtape
, succeed in not making a big deal about being bilingual. "A La Mode" could work for Café Tacuba or Gwen Stefani, just as "Pantalón" might fit the legs of Sondre Lerche or Cibelle. Occasionally the English songs have to be saved from new wave revivalism, and the Anglo-rock accents on the Latino numbers (check the shredding guitar fills on "Stalk U") position Los Abandoned on the brink of total novelty. Luckily they're having too much fun to care.
Headliners Birdmonster aren't as cosmopolitan, even if they are from relatively nearby San Diego. No Midnight (SpinART) could be cheekily interpreted as Futureheads SW, with the gruff Springsteenisms of Constantines. Nothing if not relentlessly energetic and kinetic, the marriage of Peter Arcuni's American dream to the rest of the band's lust for heavy rock — the seeds of Birdmonster were instrumental metal compositions — typically culminates in shouted choruses reminiscent of Irish punks. Preening ambience doesn't suit them particularly well ("Ball Of Yarn"); the light reflecting off of beads of sweat should suffice as adornment.
La Rocca play between the two bands' sets.
— Steve Forstneger
Click here to stream Los Abandoned's "Van Nuys (Es Very Nice)" video.
Click here to download Birdmonster's "Cause You Can."
Category: Stage Buzz, Weekly