Lindsey Buckingham
Park West, Chicago
Tuesday, October 24, 2006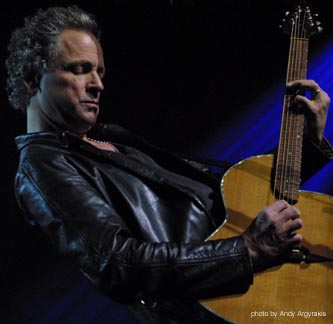 The first words out of Lindsey Buckingham's mouth at a packed Park West appeared to be a brutally honest self-examination that aptly summarizes the content found on his new CD,
Under The Skin
: "Reading the paper, saw a review/Said I was a visionary, but nobody knew/Now that's been a problem, feeling unseen/Just like I'm living somebody's dream."
In one sense, those lines from "Not Too Late" signified how this guitar god of sorts has been overlooked throughout his career, especially as Fleetwood Mac's commercial visibility rose and put Stevie Nicks and Christine McVie at the forefront. At the same time, those lines possibly allude to his frustration with having more people remember the band's backstage liaisons then the actual talent of its core lineup's most ambitious years.
But no matter what the intentions of his emotional confession were, Buckingham appeared refreshed and revived as if his 11 newest tracks were a therapeutic exercise in letting go. In fact, he confirmed a certain sense of peacefulness come "Cast Away Dreams," which spoke about leaving mistakes behind while hedging forward with reconciliation. Despite these heartfelt sentiments, the guitar slinger and his three-piece band were actually quite fierce in their delivery throughout a 100-minute, 19-song set that spanned a bulk of the current record, previous solo offerings, and far-reaching Fleetwood territories.
After flushing out the throwaway "Red Rover" from 2003's mediocre Mac disc Say You Will, he got to business with a blazing acoustic version of "Big Love" that marked exceptionally fast fret action and a soulful vocal disposition. The band returned come beefed-up oldie "World Turning," and also kicked up some dust for "I'm So Afraid," which carried on with psychedelic influence a la Roger Waters. "Tusk" kept the heat turned up high, again showcasing Buckingham's lightning-fast licks, through the track's signature horn parts were substituted with cheesy keyboard programming. Luckily "Go Your Own Way" rebounded with remarkable precision and considerably overwhelming response for the intimate environment.
Buckingham turned away from the band for cult classic "Holiday Road" off the National Lampoon's Vacation soundtrack, conjuring images of Chevy Chase tying Aunt Edna to the car hood and punching the Wally World mascot. It may have made for campy nostalgia that barely escaped with its dignity in tact, but clearly connected with a guilty pleasure dynamic. However, the gleeful mood soon turned reserved come the anti-climatic "Show You How" and an acoustic treatment of "Save Me A Place." Even if poorly sequenced, that latter track from the Tusk record was a gem for diehards, who are often relegated to paint-by-numbers hits shows when seeing the full band in concert. Buckingham also dusted off the group's "Bleed To Love Her" all by his lonesome to round out the evening. And as the tender yet impressive chord structures came to a close, Buckingham was hailed as a visionary who remains adored by his fervent followers, even if he still lives vicariously through some other players' "Dreams."
— Andy Argyrakis
Category: Live Reviews, Weekly