Best Radio You Have Never Heard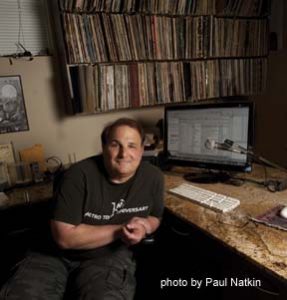 Imagine a technically perfect freeform radio show where you'll hear everything from Arctic Monkeys to Frank Zappa. Add clever drop-ins, seamless transitions, and cryptic humor. Then, imagine that every time you listen, you hear a new artist or song, or a version of a classic track that's so obscure you never even knew it existed.
That would describe "The Best Radio You Have Never Heard," the biweekly 80-minute podcast that's hosted by Perry Bax and posted on the 1st and 15th of each month at bestradioyouhaveneverheard.com (full disclosure: IE is one of the show's main sponsors).
"I've got a lot of really rare records," admits Bax, an obsessive audiophile who picked up a lot of free records during a career that included DJing at Western Illinois University's WIUS and Smart Bar, working retail at Val's Halla Records, and serving as operations director of db Sound Chicago. He's also written for IE, mixed local Chicago shows, and toured with Stabbing Westward, Black Uhuru, and Ned's Atomic Dustbin.
Bax estimates he's repeated about 15 songs during the 160-plus shows he's done. "I always try to use versions of songs no one's heard before, especially if it's a kind of common song," he says. A recent show featured a version of "We Are Crazy" by Todd Rundgren (on guitar and drums) with French synth player Jean-Yves Labat (a.k.a. M. Frog, on screams and groans) from an unreleased demo album called Froggy Goes A Pumpkin.
MP3 players were still a novelty when Bax launched the podcast in 2004; nowadays he gets 20,000 hits per month for the show, which he records at his home studio in Wrigleyville. The shows usually feature healthy doses of artists such as Genesis, The Allman Brothers, or Yes as well as '90s alt rock, punk, and new releases. "My thinking when I started was, 'Why can't I use all the colors in the palette?'" he says. "But you've got to make it work and make transitions work. Some people say it's classic rock. It's not that; it's a hybrid of all things. I think that the media dumbs down what people can deal with. And they're a lot smarter than people give them credit for. There's no limit to what people can comprehend."
An unabashed perfectionist, Bax listens to each show over and over for errors and cleans them up before posting (plus he pays all the royalty fees for all the songs he uses).
.
"Production is really important to me," he admits. "I really hope that the way I do the show separates the wheat from the chaff." It was ranked the #1 Classic Rock Podcast from about.com in 2007 and 2010.
He continues, "I've heard some leading podcasts out there, and my mouth literally hangs open; they're dropping microphones and all kinds of things. I treat it as professionally as I can. One thing people comment on all the time is that show is on schedule to the minute. That separates it from other shows that come on when someone feels like getting one done – it separates it from guy in basement with his pants around his ankles."
But the real artistry lies in the show's subtle themes and the presentation of disparate artists in seamless new ways.
"One of great things that people have told me, is they have gone out and bought music from bands they hate because they heard it in a context that made it make sense to them," he says. "And that's what it is all about to me. Sometimes I think that context is lost on people. They think it's random songs. But it's never, ever random." (Bax Photo Credit: Paul Natkin/Photo Reserve)
HE'S BA-ACK – THE RETURN OF RANDY MICHAELS: At press time, former Tribune Co. CEO Randy Michaels' new company, Merlin Media, was poised to purchase controlling interest in WLUP-FM (97.9) and WKQX-FM (101.1) as well a New York City station from Emmis Communications. Robert Feder reported in his Time Out Chicago column that he was planning flip Q101 to an all-news format, leaving Chicago without an alt-rock station. You may recall that Michaels was forced out by the Tribune board last fall after a tenure characterized by alienating employees and running roughshod over tradition; among other things, he used Colonel McCormick's vaulted office for an after-hours poker party and hired Kevin "Pig Virus" Metheny to run WGN (where he fired long-time hosts Kathy & Judy and Steve Cochran and hired convicted felon Jim Laski and out-of-towner Greg Jarrett).
The worst is detailed in former Chicago Tribune managing editor Jim O'Shea's new book The Deal From Hell: How Moguls And Wall Street Plundered Great American Newspapers, which includes a scene with Michaels receiving sexual favors from a female employee in his Tribune office. It's all the more horrifying when you consider his famous memo of 101 terms he said should never air on WGN – including "bare naked," "behind closed doors," "diva," and "down there."
As the bell tolls for commercial alt-rock radio in Chicago, former DJ James VanOsdol is hard at work on a book called Smells Like Rock Radio: An Oral History Of Chicago's Q101 (1992-2011). At press time, VanOsdol was attempting to raise the $9,750 needed to fund the book through a Kickstarter fundraising campaign (where the premiums include slightly used records from his own collection). For the latest, visit blog.jamesvanosdol.com.
– Cara Jepsen