From Nashville With Love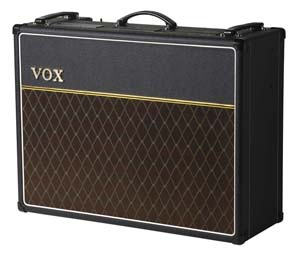 NAMM's Nashville music trade show seemed to get back to a "guitars are king" theme not seen in 10 years at the summer event, leaving the button pushers and their iPhones and iPads to last year's devices. Gear happily takes a look at some of the convention's new introductions.
Vox
AC15C2 Twin Guitar Amp
The crowds were thick and fiesty at Vox Amplification's NAMM booth as they introduced the AC15C2 Twin combo to their arsenal of AC Custom Series tube amps. This upgraded version of the AC15C adds a second speaker providing two 12-inch Celestion Greenback speakers plus a larger spring reverb tank found in the AC30C2. The AC15C2 offers both Normal and Top Boost channels, tremolo, spring reverb, an effects loop, and footswitching capabilities. The tube amp design uses three 12AX7 dual triode vacuum tubes in the pre-amp section, and two EL84 pentode tubes in the power stage. Each channel is equipped with its own volume control, and the top boost channel offers highly interactive treble and bass tone controls. Both channels rely on the tone cut and volume controls in the master section. The tone cut control operates in the power stage rather than the preamp stage, allowing an additional degree of sound-shaping. The master volume control works in conjunction with the individual volumes of each channel to create just the right degree of gain-staging. By balancing the individual and master volumes, the AC15C2 can deliver the acclaimed clean Vox chimey sound (made famous by The Beatles and The Byrds), or a powerful overdriven tone ala T. Rex and a range of vintage and modern tones. A classic Vox tremolo effect is equipped with adjustable controls for both the speed and the depth. Spring reverb is also included. An optional footswitch provides a hands-free method for turning the reverb and tremolo effects on and off while performing. MSRP is $1,100. More details can be found at www.voxamps.com.
Gretsch
George Harrison Signature Duo Jet Guitar
Not to be outdone by Gibson's recent John Lennon reissues, Gretsch celebrated "the legacy of George Harrison" at NAMM with the G6128T-GH George Harrison Signature Duo Jet guitar, modeled on the instrument that the quiet Beatle referred to as his "first real decent guitar."
Loaded with accurate details from Harrison's post Hamburg-era guitar setup, it features distinctive appointments and modifications found on and inspired by Harrison's original 1957 Gretsch Duo Jet, which he purchased secondhand in the early 1960s. These include a lightweight mid-'50s style chambered body, all-black color scheme (arched maple top, mahogany back and sides, and back of the one-piece mahogany neck), Bigsby B3C tailpiece with a black Phillips head tremolo arm pivot bolt, and an offset strap button on the lower bout.
Gretsch also includes three-ply body binding (white-black-white), white single-ply neck and headstock binding, 22-fret rosewood fingerboard with a 12-inch radius and its hump-block pearloid inlays, two single-coil DynaSonic pickups, vintage-style "rocking bar" bridge with rosewood base, silver plexi pickguard, chrome-plated Grover tuners, Gretsch "G" arrow control knobs, chrome-plated hardware, Harrison's signature on the truss rod cover, and a premium tweed case.
Gretsch's intent was to make the reissue "evoke the vibe of Harrison's original Duo Jet," which he held dear in the Beatles' early period and used to record the group's debut album, Please Please Me (1963). A quarter-century later, Harrison was pictured with the guitar on the cover of his "comeback" 1987 album, Cloud Nine.
An upgraded GH George Harrison Tribute Duo Jet, a limited-edition relic model that meticulously mirrored the original guitar down to the tiniest detail, was released earlier this year. MSRP of the Signature Duo Jet is $4,999. Details can be found at www.gretsch.com.
Fender
American Vintage Telecasters
Any NAMM show wouldn't be complete without a slew of new guitars from Fender, and this year's show continued that tradition.
The newest Telecaster models in Fender's USA-made American Vintage series are loaded with new features where new technology meets old design to recreate vintage tone.
First of the lot from Nashville, the American Vintage '69 Telecaster Thinline is equipped with a semi-hollow mahogany body with f-hole and gloss lacquer finish, C-shape maple neck with gloss lacquer finish, maple fingerboard, American Vintage Telecaster single-coil neck and bridge pickups with three-position switching, vintage-style three-saddle strings-through-body Telecaster bridge, top hat pickup switch tip, and vintage-style F tuners.
Next up, the American Vintage '72 Telecaster Thinline authentically evokes a historic tone characteristic to its time. It includes accurate Nixon-era details such as a semi-hollow ash body with f-hole, maple fingerboard, Fender wide-range humbucking neck and bridge pickups, vintage-style Stratocaster string-through-body hardtail bridge, a three-bolt neck plate with Micro-Tilt adjustment, bullet truss rod nut, and vintage-style F tuners.
This is how it sounded during Watergate folks: Tastefully crafted with distinctive features, the American Vintage '72 Telecaster Custom includes a solid ash body with gloss lacquer finish, C-shaped maple neck with gloss lacquer finish, maple fingerboard, American Vintage single-coil telecaster bridge pickup, three-position switch with aged white tip, and a vintage-style three-saddle string-through-body Telecaster bridge.
Fender did not release pricing of their Fender American Vintage reissues, but information and dealers near you can be found at www.fender.com.
AXL USA
USA 1216 Artist Guitar
No it's not a guitar designed by Axl Rose, but the nationally assembled AXL USA 1216 Artist features Seymour Duncan/Seth Lover pickups , "one of the most authentic sounding PAF-style humbuckers made today," according to the company. It was co-designed by Seymour Duncan and the inventor of the humbucker, Seth Lover. Internally, CTS pots are connected by cloth-covered wire, just like the famed original guitars that inspired this version.
AXL uses Orange Drop capacitors and features a unique volume kit that keeps the treble frequencies at the same level the player desires even when the volume pot itself is rolled off. TonePros' tune-o-matic bridge and tailpiece are used to get the most tone and sustain possible, as well as the added convenience of its locking mechanisms. The company presses every fret with some of the highest quality fret-wire available, leveling and dressing them for enhanced playability in every register. Added features like a solid mahogany body and set neck, Grover Rotomatic tuners, and a Graph Tech Tusq XL nut, and this guitar is 100-percent stage ready right out of the box at an usually affordable price for a guitar built in America.
The entry level 1216 Classic model features all of the above but substitutes AXL Alnico pickups and is offered at a lower cost with factory bridge/tailpiece and no volume kit.
The AXL USA 1216 starts at a street price of $329.99 with, both unprecedented prices for U.S.-assembled instruments. AXL Guitars is also the builder of the Badwater, Wavepoint, Jacknife and Marquee Series electric guitars and basses. For more information on AXL guitars, visit axlguitars.com.
– David Gedge