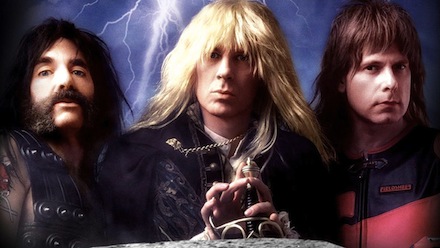 This week Teenage Cancer Trust Unseen will stream archival performances from Pulp (October 14th), Noel Gallagher (October 15th), Them Crooked Vultures (October 16th), and The Cure (October 18th). The performances are free to watch on their YouTube Channel at 2 PM. Get all the details here.
The one and only Spinal Tap reunites virtually to raise money for the Pennsylvania Democratic Party on October 14th at 8 PM. This is a one-time live event and the only way to get access is to donate. Learn more about the event and donate here.
Metz will perform their new album, Atlas Vending, in its entirety live from The Opera House in Toronto on Thursday, October 15th at 8 PM. Get tickets here.
Watch Boston Manor perform a hometown show from the iconic Blackpool Tower in X live Thursday, October 15th at 2 PM. Tickets are still on sale.
Glass Animals brings their globally renowned live show to the virtual stage with "Live In The Internet," an event supporting their new album, Dreamland. The event will feature a full band performance and special guests along with the band's visually striking stage design for a unique audiovisual experience. Tune in Thursday, October 15th, at 7 PM. Grab tickets here.
Stone Temple Pilots will perform their chart-topping album Purple in its entirety on their website this Friday, October 16th, at 7 PM. Make sure you get tickets here.
Join Rufus Wainwright for his "Rufus-Retro-Wainwright-Spective" series, where he plays all his albums. Tune in Friday, October 16th at 4 PM for side 2 of his self-titled album. Tickets are on sale now.
Trey Anastasio's virtual residency live from New York's Beacon Theatre continues this Friday, October 16th, at 7 PM. All proceeds from the show will benefit Phish's non-profit, the WaterWheel Foundation, and its new Divided Sky Fund (DSF). Tune in for free on Twitch.
The National Independent Venue Association (NIVA) presents the virtual Save Our Stages Festival, a three-day fund-raiser for the NIVA Emergency Relief Fund. Watch performances from the Foo Fighters, Major Lazer, Phoebe Bridgers, Portugal. The Man, The Roots, Leon Bridges, Brittany Howard, and more, all recorded at various small venues throughout the country, including Chicago's Metro. The festival streams Friday, October 16th through Sunday, October 18th, on YouTube, hosted by Reggie Watts. See the full lineup and show your support here.
Death metal legends Obituary perform their classic 1989 album Slowly We Rot from the ESI Streaming Studio in Tampa on October 17th at 5 PM. Tickets are available here.
Sammy Hagar hosts his "2020 Birthday Bash On the Beach" featuring The Circle, Kevin Cronin, and Rick Springfield on Saturday, October 17th at 8 PM. Join the fun and get tickets here.
Join Run the Jewels as they perform RTJ4 in full with special guests Mavis Staples, Josh Homme, Rage Against the Machine's Zach de la Rocha, and more Saturday, October 17th at 11 PM on the Adult Swim website. You can also watch the show on YouTube after the broadcast.
Christine and the Queens perform live for a KEXP "At Home Session" on October 17th at 3 PM. Watch it for free on YouTube.
Audiotree presents Laura Jane Grace of Against Me! live from Chicago's Lincoln Hall Saturday, October 17th at 8 PM. You don't want to miss out, so get tickets here.
-Ashley Perez Hollingsworth
Category: Featured, Features, Livestreams, Stage Buzz, Weekly