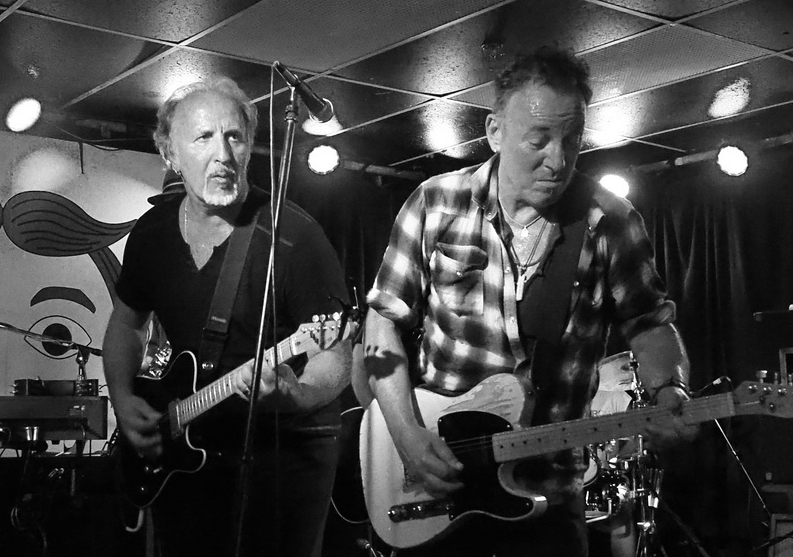 By Tom Lanham
This week, a new Bruce Springsteen album hits the streets — Letter to You, his 20th, with the E Street Band this time, but stealth-released like usual. And fans will not be disappointed — at 71, the New Jersey native is feeling both wistful about his early nightclub days ("Ghosts," "Last Man Standing") and angry about a potentially Trump-controlled future ("Rainmaker," "House of a Thousand Guitars"), with a dollop of uplifting hope sandwiched somewhere in between ("The Power of Prayer"). Reflection and rancor — sentiments best expressed through the medium of timeless rock and roll. But Pittsburgh-bred Joe Grushecky — longtime frontman for The Houserockers, nee The Iron City Houserockers — harnessed The Boss's current feelings first, two years ago, when they collaborated on the rousing anthem "That's What Makes Us Great." Featured on The Houserockers' "Glory Days"-minded, 2018 indie outing More Yesterdays Than Tomorrows, the duet was just reissued as a perfect pre-election single by a recently-resuscitated Cleveland International Records, the imprint that initially signed Grushecky in the mid-'70s; run then by the late Steve Popovich, Sr., it's now overseen by his equally-canny son, Steve Popovich, Jr.
And when Grushecky and Springsteen's ragged rasps dovetail on the anthemic "Great" chorus, you can't help but want to stand up and cheer for the dying concept of Democracy, which still might be able to be salvaged: "Let's turn this thing around before it gets too late/ It's up to me and you, love can conquer hate/ I know this to be true, and that's what makes us great." "When I wrote the song, it just struck me that it would be a great thing for Bruce to sing on," explains Grushecky, a true believer who —like his East Coast pal and occasional songwriting/performing partner — has kept his band chugging over the years, through thick and thin. "So I sent him an acoustic version, and he liked it right away and said, 'Let's do it.' So it came together pretty quickly. We recorded a good version of it, sent it to him, and he sent it right back to us with this incredible vocal on it, so we just went with it. We actually did it through the Internet this time." Politically speaking, the single's second-life rerelease is perfectly timed and parallels this year's remastered version of The Iron City Houserockers' definitive sophomore set, Have a Good Time But Get out Alive!, now with a second 16-track disc of bonus material, including a Ramones-speedy cover of "Doo Wah Diddy." The time is right for a Houserocking Renaissance, although its leader maintains his customary Regular Joe humility. He's not name-dropping when he talks about Bruce — they're actually good friends, comrades in working-class arms. "So with "That's What Makes Us Great," the record and the video, all we're trying to say is, 'Hey — we're all Americans here. There's too much blue-state/red-state, us-against-them stuff going on — we should all be in this together because there are certain things that everybody should agree on."
IE: First, I've really got to say — having been there — Pittsburgh is just a beautiful city.
JOE GRUSHECKY: It IS a beautiful city! And at the turn of this century, Architectural Digest did a story on the three most beautiful cities in the world, and they were Paris, St. Petersburg, and Pittsburgh. But I hope that it never gets too popular because it's still kind of a best-kept secret.
IE: And the Warhol Museum is there, between two giant buildings.
JG: Yeah. They've got some really iconic things here. People come to town, and you always want to take them up the Incline, look at the city from Mt. Washington, and take 'em to Primanti Brothers for the sandwich with everything piled on top. And then you've got all the bridges — I think Pittsburgh has more bridges than Venice, actually. And there are all of our sports teams.
IE: What credos did you pickup there, growing up as a coal miner's son?
JG: The value of hard work. My family was a pretty rugged bunch, my father's side, in particular. They were dirt poor, and they pulled themselves up by the bootstraps, as they say. So you work hard, respect your elders, all that kind of stuff. But when I grew up, Pittsburgh was a unique town because it had its own little music scene, with songs that were popular nowhere else in the world but Pittsburgh. I'll give you an example — The Spencer Davis Group, "Gimme Some Lovin'," right? That was their big hit. But the hit here in Pittsburgh was a song called "High Time Baby" that they played in the clubs — not on the radio, but in all these teen clubs. And Tommy James "Hanky Panky" was just an overlooked B-side until some Pittsburgh DJs started playing it. Because even the AM radio stations would play this really obscure music, and you could go to see Sam the Sham and The Pharaohs, Wilson Pickett, Sam and Dave, Mitch Ryder and The Detroit Wheels on a weekly basis, playing for the teens. And I saw them all numerous times. And while this was going on in Pittsburgh, you also had the regular mainstream stations playing The Beatles and the Stones and all the great '60s music. So it was a real melting pot here. And Bruce and Miami Steve (Van Zandt, E Street Band guitarist and founder of Sirius XM's retro "Underground Garage" station) were doing the same thing in New Jersey that I was doing in Pittsburgh.
IE: When did you first hear Bruce?
JG: Well, my father wanted me to go to college. He was a coal miner, and he'd left school at 12 or 13 to work in the coal mines during the Depression. So as far as he was concerned, I was going to college; no matter what I did — I got my degree. But I also played music, and I definitely played music in college — I had bands, and we played frat parties and all that stuff. I actually had an audition for RCA Records one time back then. So when I got out of college, I decided to start making music on my own, but it was a period where I was having trouble relating to what was popular. But my younger brother turned me on to Springsteen — he said, "You would really like this guy — he has the same roots that you have." And he was right — there were a lot of similarities, and his band even looked like my band. So I thought, "Oh. Man — there's a regular guy making music that I can actually relate to." So I was a big fan of The Wild, the Innocent, and the E Street Shuffle on — I missed the first record. But I was a big music fan, period. I loved the Stones; I loved Dylan, Stax, Motown, blues, the J. Geils Band, and also punk — the good stuff, like the Pistols, The Clash, Graham Parker, and Elvis Costello. It all seemed to make perfect sense to me. It all seemed to go together in those days. So I had a pretty good background, so I put it all together and started concentrating on songwriting, and then we got a deal with (Meatloaf's imprint) Cleveland International — Steve Popovich, Jr.'s dad signed us. And for our second album, he brought us to New York City to record in 1980. And for our first record (1979's Love's So Tough), we basically put down on tape what we were doing in the nightclubs. But for Have a Good Time, we got a little more serious, and we brought in Mick Ronson and Ian Hunter, and Steven Van Zandt. So we had these classic English rockers with us, plus the Jersey Shore sound, and we were sort of right in the middle of both of 'em, so it worked out really well for us. And that was my introduction to Bruce Springsteen as a person — I got to meet him one night when he came down to meet Mick Ronson. And then we just became friends over the years.
IE: Was  it difficult digging up 16 bonus cuts for that album's recent reissue? 
JG: Well, what we'd tried to do when we recorded for Steve Popovich, Sr. — because he always gave us a budget for demos — was to go into a local studio and just throw down as many songs as we could in the week or two we had before we were going to record an album. So that we'd have something on tape to listen to, we had a LOT of demos, like the first time we ever played "Have a Good Time (But Get Out Alive)" is on the bonus disc, as is "Rock Ola," the slow ballad that closes the record. But on the bonus-disc outtake, we're doing it fast, as fast as we could play it. But when we got in the studio, it just wasn't working that way, until one day Mick Ronson came in, sat down at the piano, and played it slow. So that became what's on the record. And we did a cover of Lightnin' Slim's "Rooster Blues," just because we were a really good blues band, too, when we wanted to be. And I actually found all of this, everything, in my basement. I'm a packrat as far as the music goes — I've saved everything we've ever done, so I have this huge collection of cassettes and old reel-to-reels, literally hundreds and hundreds of tapes. I had so much bonus material for "Have a Good Time," we could have done two or three bonus discs. So we just the most interesting — from our perspective, anyway — and narrowed it down to 16 tracks. And it was a lot of fun, going back and listening to these things that I had when I was 40 years younger. It was all pretty good, actually — I was pleasantly surprised at how good the material was.
IE: When did you first co-write with Springsteen?
JG: It was when we did a record called American Babylon In 1995. During the sessions, I came up with a set of lyrics for a song called "Homestead," and he and I ended up collaborating on it. He basically wrote the music for it, and I did the lyrics. And that was the start of our writing partnership. But these days, we don't talk as much as we text back and forth — he's got a lot going on right now, and he's putting out that new record, and he's got a film about it, too.
IE: And I'm sure there's a lot of serious topics to text about. Like, how in the hell did Pennsylvania become a pivotal swing state?
JG: I know. It's crazy. And the joke is that you have Philadelphia on one side, Pittsburgh on the other, and Arkansas in between. And I don't want to be disparaging to any people, but it's a lot of gun-rack-in-the-back guys. But Pittsburgh is a Democratic stronghold, and the outside areas used to be very working-class.
IE: But now your son Johnny is in the business, too?
JG: Yeah. He plays in my band, and he was a big part of our last Houserockers record, More Yesterdays Than Tomorrows. And of course, I was worried when he chose this because it's not an easy lifestyle unless you make a lot of money. But you've got to follow your passion because you only have so many shots in life, so you've gotta do what makes you happy. And he's wanted to play since he could walk, and he actually played with Bruce Springsteen onstage when he was only eight years old. Johnny is 31 now, and he this amazing band called Milly — they're Millytheband on Spotify — and their A Place in my Mind album is pure pop, just a great record.
IE: Courtesy of your degree, you also still teach special-ed students in Pittsburgh. Have you ever thought of no longer Rocking the House with your band?
JG: No. There hasn't been a time. I worked in a mental institution for the severely disabled in the mid-'70s, and I was single at the time. So I used all that money to get my recording career going — I used my special-ed money to buy all the equipment and finance all my early recordings. I was bound and determined, so then I went off and played music full time. When my career went South around American Babylon, I went back to teaching because I had kids, and teaching always paid nice health benefits. So now I do both when most guys would have done one or the other a long time ago. I still love playing so much. I never once thought about giving it up!
– Tom Lanham
Category: Weekly