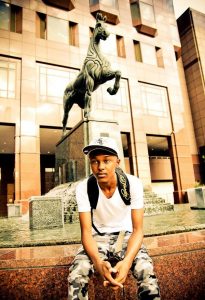 More than once, K!DD Tha Chicagoan appeared to be on the verge of invigorating an otherwise apathetic crowd at Reggie's on a rainy Thursday night. Regrettably, circumstance kept holding him back.
Part of a showcase featuring local talent such as Uptown Celebrities and Duke, K!DD strolled onstage unassumingly, introducing himself after giving a shout out to his DJ, Stevie. A fully crammed backpack remained double strapped to his back as he took a hold of the mic for his intro. The wandering audience began to take notice as the young MC flashed his effortless rhymes. Almost as quickly as curiosity built, it was squandered when a technical issue at the DJ booth led to a momentum-killing delay. K!DD did his best to fill the empty space with uninspired banter. One minute later the second beat returned and the rapper was back in his comfort zone, firing off rapid-fire verse after verse. His rhymes displayed an admirable ability to combine credible bravado with a pleasing whiff of humility.
Next K!DD took a second to apologize because his voice was "kinda out." Without further explanation he sprung to press the energy up a notch, shedding the backpack and launching into "Speakers Bang," followed by his most well known hit, "CUL8R." The catchy hook of the latter did work to enliven the majority of spectators. He paced side-to-side onstage, alternating a raised arm to each half of the crowd.
He brought it down a bit for a disjointed slow jam, complete with an awkward intro and exit for an artist K!DD brought on stage to sing the harmony. Then it was time for a number he said was "personal to him," an anti-hater anthem that proved he wasn't lying when he listed Kanye West as an influence. It may have been a far cry from "Through The Wire" or any of Yeezy's work, but it showed a glimpse of what K!DD aspires to be.
The performance looked to be over before K!DD recognized he should try and leave on a high note, rather than a goodbye plug for his Twitter handle. He made a refreshingly honest admission before kicking a "freestyle," laughing that the label would be untrue. It was a verse he'd written a few weeks prior. He said he can't stand when rappers pretend their freestylin' when it's all prearranged. It didn't matter when the lines were composed, the a cappella rhymes were undeniably inspired and made for a much stronger finish.
That sort of self-awareness could prove to be an advantageous trait as K!DD Tha Chicagoan's career progresses. One can almost sense that he's still hiding a fair amount of angst beneath the surface. For an artist that lists not only Kanye, but also Nirvana, as inspiration, he's sure to understand that audiences can relate to inner turmoil.
— Brendan Greeley
Category: Featured, Live Reviews, Weekly