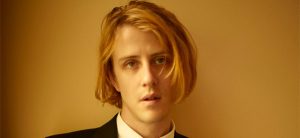 Having abandoned his last project (indie darlings Girls) in July of 2012, things have escalated quickly for San Francisco native Christopher Owens with the release of his solo debut.
Where Girls specialized in a more low-fi production, sound quality is clearly a priority on Lysandre (Fat Possum). Fuzzy electric guitar is replaced by a variety of instruments that range from saxophone and harmonica to flute and organ, sealing the album with an orchestral pop lacquer.
Lysandre is autobiographical at its core as it follows the path of Owens' first Girls tour from San Francisco to New York and back, focusing on a French love story along the way. A baroque pop piece ties it all together.
While diverse instrumentation is a concept that now permeates the indie atmosphere (especially since the crossover success of Arcade Fire), Owens picks his spots wisely, focusing on only one or two different instruments per song as opposed to trying to cram in everything just for the sake of doing it.
"Here We Go" gets the ball rolling with bursts of electric guitar while the flute weaves in and around every stinging note. "New York City" follows with the pace of a whirling Times Square, saxophone rising to the top.
Vocally, Owens resembles Matt Pond, but when paired harmonically with Hannah Hunt and Cally Robertson on this album, the end result veers into the sweet, mid-'90s work of Evan Dando and Juliana Hatfield.
Paul McCartney once suggested that people would have had their fill of silly love songs by the '70s. "What if people are sick of hearing love songs?" continues Owens in 2013. "Maybe I should sing about dyin'/Or maybe I should sing about how I'm not gonna control what comes out of my mouth/'Cause beauty's in the eyes of the beholder, love is in the ear of the listener" continues his retort on "Love Is In The Ear Of The Listener."
The age old theme of finding love does indeed get silly at times ("Kissin' and huggin' is the air that I breathe," Owens rambles on the album's title track) and yet nevertheless, it's hard to resist the sunny California pop or the images of Brian Wilson conjured on Lysandre. (Tuesday@Lincoln Hall.)
— Jim Ryan
Category: Featured, Stage Buzz, Weekly