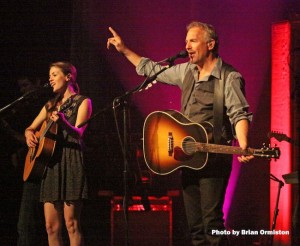 Everyone has a "B" side. From the pitcher whose's curve doesn't anymore, to the rapper who felt he could act. It could be a side gig or finding a long lost passion. Maybe it's life's Act 2? Kevin Costner, yeah the actor's "B" side is the frontman for the country band Modern West.
He rolled into the way-western burb of St. Charles Saturday night the 14th for a sold-out crowd at the stately Arcada Theater. The standard tardy start began with a montage of some of his many movie roles, because on the surface, most were there to see what this was all about.
This isn't just a bunch of guys propping up an actor looking for a summer journey. Costner played all his own stuff, not a cover tune all night. He's taking this seriously. Seemingly comfortable in cowboy boots, he's a storyteller. "It's a four-minute song or a two-hour movie," he said. This is his journey about the movies and places he's been. They ripped through 15 songs and most all had that introduction of a story behind the story.
Things peaked when Costner brought out his daughter Lily for "Let Me Be The One." She may be on a summer adventure with the old man, but she more than held her own on acoustic guitar, and her vocals on "I Know These Hills" should have convinced everyone that she can do this if she wasn't a Costner.
Granted, he doesn't have all the stage moves down yet, and at times seemed a little awkward. He went to the "hands-out — hey, look at me" move similar to the one he used in Bull Durham while running to first after smacking a home run. Will Modern West be headlining the United Center soon? Probably not. Can he hit the high and extended notes? No, but he's got a sing-talking style that fits his music.
The "B" side of that old 45 wasn't always meant for regular airplay. But, they were always worth a listen; Costner and Modern West are worth a listen.
— Brian Ormiston
Setlist
Red River
Long Hot Night
90 Miles
Turn it on
Nogales
Top Down
Let Me Be The One
How Deep The Water
O Mallie Mae
I Know These Hills
Long Way From Home
Hey Man
Superman 14
Encore: Angles & Tambourine
Category: Live Reviews, Weekly