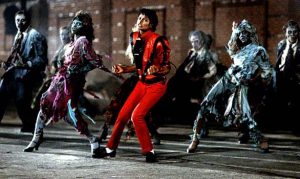 Everyday Is Halloween's 4th entry is a landmark in short-film music video . . . blah blah blah. It's "Thriller"!
Say what you will about Michael Jackson, but who among you doesn't sit down to watch whenever the "Thriller" video comes on? Once we get past his second, amazing leather jacket, Jackson sadistically taunts his girl about being a scaredy-cat before trying to kill her. A zombie danceoff complete with the dead worming out of their graves? No problemo. "Weird Al" Yankovic didn't even attempt a parody. He, like us, couldn't stop watching.
Click the October issue's cover to read the full feature, or follow the tabs to Monthly –> Features for the previous entries.