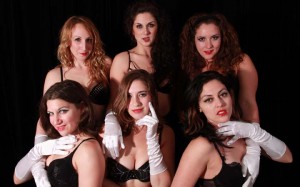 Our "Everyday Is Halloween" countdown continues today with The Flaming Dames, a rock 'n' roll burlesque troupe!
Their fall show, "The Exorcism of The Flaming Dames," happens every Saturday through November 12th at Vision Nightclub downtown, and asked Artistic Director Lisa Kerrigan to clue us in.
"The Dames have been doing this now for about 10 years, and our Halloween/horror themed shows are our most popular. There's something inherently sensual in the dark, mysterious, and the macabre and we've managed to tap into that quite nicely in our work. It can fall off balance if you're not careful, but this is kind of our specialty and it's not exactly our first time at the rodeo, if you know what I mean.
What/who is your essential Halloween musician and why?
"For obvious reasons, here's a small list: Alice Cooper, Disturbed, Marilyn Manson, Rob Zombie, Tool, Puscifer . . . just to name a few. We've used a lot of their music in our work, and have been quite the inspiration when we're building our new show concepts. The darker, heavier hitting, creepy music but with that raw, loud, and sexy rock 'n' roll edge is the type of music we use in our work, especially our Halloween shows.
What did you never go as for Halloween, but always wished you'd made the effort?
"Well that's the thing, I always made the effort, so there isn't really anything that I never went as. I would even sometimes be two different things at two different parties if I couldn't make up my mind. Halloween was a 'go-all-out' holiday for me, so they are always pretty intense in the costume department."