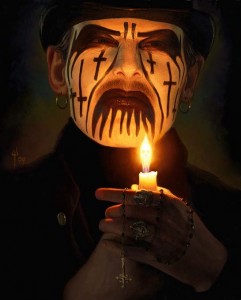 It's October 5th, and Everyday Is Halloween continues with Rodney Pawlak's recollection of this King Diamond/Mercyful Fate moment.
When I was a really young kid, I told my parents I was going to a friend's house to watch horror movies one Halloween night, but instead I jumped in my car and headed into the city to see Mercyful Fate at the Metro [in 1984]. It was an incredible, life-changing event. I didn't think that a lot of people were into the band back then, but it was packed. Afterwards, we headed north on Broadway for a pizza place to begin the long trek home. The city was full of all kinds of interesting people walking the streets, many wearing costumes, so I did not think it was too much of a big deal when a big guy carrying a large axe walked up next to my car at a stop light. We were jamming out to the Melissa album on full blast when I noticed him hoist it above his head to attack. I hit the gas hard and rushed through a red light, but not in enough time before he slammed it into my Camaro's new paint job. I hit the brakes and spun around completely freaked out. I watched the man run across the street and instinctively geared to go after him, but then common sense kicked in. Needless to say evil was in the air that night, and things weren't much better the next day trying to explain the huge dent in my car's roof to my parents.
– Rodney Pawlak
Click the October issue's cover to read the full feature, or follow the tabs to Monthly –> Features for the previous entries.