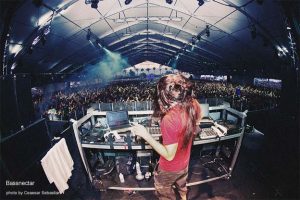 Electronic music doesn't have to be scary. But if you continue to avoid it while it advances at its rapid pace, you'll be terrified in no time. Here's our rock-leaning preview of North Coast festival, as well as upcoming gigs by Jim Ward, Plain White T's, Keegan DeWitt, and Heart-Set Self Destruct.
Dancing remains NCMF's forte, featuring stalwart acts like STS9, Fatboy Slim, Rusko, Benny Benassi, Neon Indian, and more, but also slips in Gogol Bordello, Of Montreal, Budos Band, and a local contingent including California Wives, Van Ghost, Hood Internet, and Team Bayside High.
Lest you try and pigeonhole the headliners as confetti-dumping, 4/4 bass-note thumping, button-pushing talent vacuums, you'd probably only be able to pin that on David Guetta. The 43-year-old slingshot out of French DJ obscurity to a top-5 hit in the U.S. ("Sexy Bitch" feat. Akon), and racked up collaborations with Kelly Rowland, Kid Cudi, and Black Eyed Peas on 2009's One Love (Virgin). Bassnectar teaches a oppressive lesson in dubstep basics. The Californian takes the style from its inner-city London origins — maintaining the drum'n'bass speed and wobble bass — adding an almost industrial edge before ramming it into whatever he likes, as on his remix of Gogol Bordello's "Immigraniada." Jam elements and George Duke have infiltrated Lotus' kaleidoscopic self-titled new album, while Thievery Corporation's Culture Of Fear (ESL) takes a typically cosmopolitan stance, cribbing lounge, Eastern mysticism, worldbeat, and house.
A full slate of after parties at Bottom Lounge, The Mid, Double Door, Sound-Bar, and House Of Blues even include artists who won't be at the festival, like an incredible Saturday night bill at Congress that features dubstep superstar Diplo (M.I.A., Major Lazer) and rarely seen Sebastian — a resident of the French Ed Banger/Justice enclave who just released his debut album, Total. (Friday through Sunday at Union Park.)
High on the indie-rock reunion wishlist sit At The Drive-In, which imploded just months after releasing the astonishing Relationship Of Command. Jim Ward doesn't want to hear it. For 10 years he's been dodging the topic, first trying to quench fans' thirst in the like-minded Sparta and now, reversing course, under his own name. His latest release (Quiet In The Valley, On The Shores The End Begins & The Electric Six) is a compilation of three EPs recorded over the past four years that see him embracing a more traditional, Texan identity. Filled with troubadourish folk, with a sprinkling of dust for effect, it's a handbrake U-turn that wouldn't appear to play to any of his past strengths (wiry guitars, stop/start dynamics). Perhaps that's why he tacked on the Electric Six portion — a separate disc that lights an amplifier beneath his Lone Star state of mind. Sparta has also been reawakened from a three-year nap. Stand by. (Wednesday@Schubas with The Lusitania.)
Credit Lombard's Plain White T's for finding their niche in spite of its suburban-punk upbringing. With radio hits that have nestled cozily among the adult-FM crowd ("Hey There, Delilah" and "1,2,3,4"), they've not looked down upon their advantage. And so they'll tackle the sort of gig this week that their fans will be mostly likely to attend: a lunchtime, outdoor gathering in the Loop. Adding to the atmosphere, they'll be joined by a choir whose average age makes them potentially the children of the very fans in attendance. Fifty 2nd-to-9th graders from the People's Music School join the sing-along to raise school awareness in a key demographic. Plain White T's newest record, Wonders Of The Younger (Hollywood), gets a "proper" celebration on October 30th at House Of Blues. (Wednesday@Thompson Center Plaza.)
Looking for a quick score? Mumblecore film-music provider Keegan DeWitt pops into town on the back of an EP (Nothing Shows) and a handful of singles and a full-length. Though his layered, Beta Band-meets-exuberant indie pop merits a visit, as does his blood relation to Roman Candle, he'll likely draw a crowd based on his scores to a trio of critically acclaimed indies Dance Party USA, Quiet City, and Cold Weather. (Friday@Space with Madi Diaz.)
Angry, inconsolable local aggro-rockers Heart-Set Self Destruct began hawking Of Nightmares (Soundmine/The Orchard) a week ago. Following their summer jaunt with Saliva and Filter, the band should be locked into the new material. Though their adherence to the nu-metal formula and conservative approach to Jonathan Davis lyrics can be too familiar, producer Dan Malsh's production packs considerable wallop — and we all know how much better bands are live than in the studio. (Saturday@House Of Blues with Imperial Sons, Facing Forward, The Get Go, and Red Novella.)
— Steve Forstneger
Category: Featured, Stage Buzz, Weekly