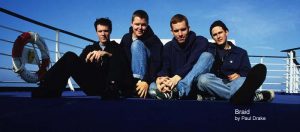 We just noticed that two of the biggest local-music showcases, Mobfest and I Am Fest, are acronyms (Music Over Business and Independent Arts & Music). That's not the only weirdness you'll find in our preview containing I Am, The War On Drugs, the long-awaited Braid reunion, and Blah Blah Blah's release show.
Of course, we don't all-cap I Am's typeface because you don't say I.A.M. Fest — or maybe you do, which is all the more important we do it like we do so you can go around telling folks how smart you are. In its third year, the showcase has become both less narrow yet more condensed. Its first year, I Am spanned two stages at Congress Theatre for 25 local acts. Now in its second year at House Of Blues, it combines the results of its Elbo Room battle-of-the-bands (winners: Board Of Governors and Sunshine & The Feel Good Nation) opening for regional powerhouses Masons Case, Workout Music, On Your Markx, Finley Knight, Gunnar & The Grizzly Boys, Kelsey Montanez, Jip Jop, and Wayland. It's not just about music, however, and includes photography, film, and other exhibits, as well as live (not necessarily musical) performers. A day at the beach, with earplugs and no bacteria warnings. (Saturday@House Of Blues.)
Even on his Wagonwheel Blues debut, Adam Granduciel's The War On Drugs felt like it opened mid-conversation, like arriving late to a party where you only just met the host. Slave Ambient (Secretly Canadian) carries much the same vibe, each track's fade-in like peeking into a house's rooms through the curtains. Granduciel, constantly changing subjects in an occasionally Dylan-esque whine, holds court above a glowing din of organ and percolating electronic effects, but never behaves as if he's not plainly rocking as he sees fit. Springsteen and M83 lying on the beach, tickling each other's chins while the bonfire dies is one way to put it, never having to go home is another.
Opener Caveman might not even need to leave the stage as War On Drugs begin their set, since they boast the same sunrise/sunset intro/exit stratagem. Consistently motorik and relying on both lush synths and reverbed guitars, the quintet's calling card is quartet harmonies. Coco Beware (available 9/13 digitally on Magic Man; 11/8 on disc) is in a perpetual cycle of build-and-release, mostly due to swelling harmonies, though they're just as often the cause of a rise in tide as the billowing wind that forces the waters to recede. (Friday@Schubas with Tammar.)
As someone who hasn't been back to Urbana since the year he graduated from the University Of Illinois, Braid's reunion confronts me with memories I've been ignoring. On the non-Greek side of campus, Braid played more house parties and ad hoc venues than can probably be counted; that they were running a particularly wiry brand of post-hardcore emo (and being one of the best at it in the country) mattered little. They were an uncommonly urgent band to see for the price of a Solo cup. Their return EP, Closer To Closed (Polyvinyl), could never possibly chase a memory, though the rawness in "Do Over" and "Universe Or Worse" are closer to Frame And Canvas than the somewhat anonymous Hey Mercedes sound Bob Nanna sought. (Saturday@Metro with All Eyes West and Fires.)
Never judge a book . . . yes, we know. But if you'd only heard Chicago's Blah Blah Blah and never seen them, then stood in front of the stage Saturday night, you'd have questions. The Thank You Thank You EP frolics through English '80s guitar pop like The Smiths or Cure (or a less wistful Wild Beasts) in a way that not only betrays their appearance, but their geography as well. If they were to maintain this sound on another release you might think it a gimmick, but right now the foundation exists for a lithe pop career with a moderate soulfulness. (Saturday@Double Door with Sidewalk Chalk, Buckman Page, Magic Milk, and The Queue.)
— Steve Forstneger
Category: Featured, Stage Buzz, Weekly