Another Kind Of Monster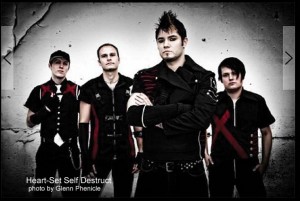 Heart-Set Self Distruct recorded the follow-up their 2007 debut, Victims Like Me, with producer Dan Malsch (Framing Hanley, Tantric) at the Sound-mine Recording Studio in East Stroudsburg, Pennsylvania. During the summer and fall of 2010, the band recorded 15 songs for a follow-up full-length. Heart-Set have released an EP, entitled Monster, which is available now digitally and at their live shows. The CD version will be available May 24th via producer Malsch's label, Soundmine Music Works. The titular single hits radio this month, as well. "This haunting song gives a glimpse into the mind of a tortured soul who craves and feeds on other people's pain," according to the band. Heart-Set Self Destruct appear at Reggie's in Chicago with Nonpoint on May 18th.
In the wake of last year's Captain's Log, Chicago-based Honest Engines fine-tuned their sound with multiple performances expanding their "intricate attention to detail into a fully fledged sonic landscape," according to a press release. In other other words, they got better by playing out alot.
That musical workout schedule has paid off in the form of The French Song EP. Although not intentionally banded together, the three songs housed on the EP fell into place naturally after a handful of summer sessions at Carterco Recordings in Chicago. "Moving towards a more complete sound captured by live tracking drums, bass, and guitar, the new EP is a departure from hard-nosed met-iculousness and a stride towards an organic aesthetic that embraces the creative imperfections of playing live."
Veteran Chicago musician Tim Menard and his band, the Flying Nowakowski Brothers, tracked and mixed at Chicago's Strobe Recording. First Flight (Lost In America) represents the "culmination of a deep and varied music career for Menard, one that has cast him in the role of songwriter, bandleader, interpreter, and sideman over the course of more than 30 years," wrote his label.
"First Flight encapsulates the complete range of Menard's musical experience, from the anthemic rock of 'Smoke' and 'In Between' to songs like 'Walkin' The Blues,' 'Tied To The Stone,' and 'Autumn Skyline,' which draw on elements of folk, country-rock, and blues."
The Divotones are "more than half way finished recording their fourth all-original CD full of outrageous hard rockin' humor, according to a band e-mail. Their new project is being recorded at Dr. Knobs Audio Lab in Streamwood.
Punk-rock trio High Ball have completed their new EP, currently untitled, at UP ON THE ROOF RECORDING in Lombard . . . Also on The Roof, producer Marc Taylor of Groove Quest Productions finished up tracks for local rapper JG. Owner/engineer Mark Blas engineered.
At PLANET10 STUDIOS in PALATINE, Marco Minnemann, Guthrie Govan, and Bryan Beller signed on to record a full length CD of progressive/ fusion-inspired music . . . Renowned, local spoken-word poet Malik Yusef (who's worked with Kanye West and Common) booked time in to mix and fine-tune new and old material . . . Blues artist Liz Mandeville, featuring Grammy winner Willie "Big Eyes" Smith on drums and harp and Darryl Wright on bass, recorded some tracks with Jim Godsey producing . . . The Scott Wesley Band was in to complete a video for their song "Everything" that Planet10 recorded last year.
Hey Studiophiler: To get your studio or band listed in "Studiophile," just email info on who you're recording or who's recording you to ed [at] illinoisentertainer.com, subject Studiophile, or fax (773) 751-5051. We reserve the right to edit or omit submissions for space. Deadline for June 2011 issue is May 16th.
Category: Columns, Monthly, Studiophile