In Praise Of Slow Journalism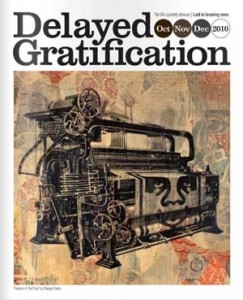 Print is not dead. For all the wily charms of the digital world with its tweets, feeds, blogs, and apps, there is still nothing like the pleasure created by ink on paper."
So says the manifesto in the debut issue of Delayed Gratification magazine, a quarterly journal launched in January as an antidote to the 24-hours news cycle — its endless crawl across the screen and absurd army of journalists doing standup reporting from remote hotspots where the action has died down.
I can't help but love a magazine that brags about being the "Latest to breaking news."
The hefty, U.K.-based almanac is halfway between a magazine and a book, and is the brainchild of Marcus Webb, international editor of Time Out, and Robert Orchard, freelance writer and editor of Time Out Croatia, who met eight years ago. "Over the past eight years, media started getting faster and faster" with the introduction of live streaming video, Twitter, and the like, says Orchard. "People started tweeting from British court rooms and live blogging big events. We felt that sort of the journalism and the way we all consume it was opening up a gap at the other end for slower, more considered journalism that allows journalists time and perspective to add value to stories."
Webb, Marcus, and their group of co-owners call their company the Slow Journalism Company, and each ad-free issue of DG examines three months of events with context and perspective. In addition to quality analysis and writing, the magazine also boasts excellent paper, illustration, and design.
He admits it's an unusual choice at a time when more and more people get their news from the Internet. "A lot of bigger publications have felt increasingly threatened about he advent of online journalism and are not sure how to deal with it," he says. "Others are trying to encapsulate online journalism in magazines. We felt the opposite way: that we should be playing on the strength of magazines; that we should engage readers and have great paper quality, fantastic images, and a fantastic product rather than try to emulate what's online."
Indeed, Webb has dubbed the 24-hour new cycle "the spectacle of the ridiculous."
The first issue included a roundup on a recent spate of health-scare stories in the press. Iraq-born calligrapher Hassan Massoudy created the cover illustration for the second issue, which hits newsstands this month and boasts a piece about the economic realities of the Edinburgh Zoo's acquisition of two pandas; an article linking China's rise as an economic power to train delays in Britain, as well as pieces about Egypt and Japan; and plenty of infographics, including a bird's-eye view of the recent revolutionary movements in the Arab world. Briefs about unusual stories that people may have missed are sprinkled throughout.
Orchard says they're not hoping to do away with today's nonstop, up-to-the-minute journalism, but providing an attractive alternative. He notes that there are similar start-ups in Norway and Sweden.
At press time, DG had 1,000 subscribers. Orchard couldn't tell me how many were less than 50 years of age, since they don't collect information about their customers — or market to them.
"We're not trying get you to sign up so our carefully selected media partners can profile you," he said. "We're only trying to sell you one thing — the magazine."
The Web site has a preview of the magazine, but to see it you have to buy it (an iPad version is still on the drawing board). "What I want is for people to buy the print edition, so then they get the full experience," says Orchard. "It looks amazing, feels amazing, and smells amazing." Subscriptions for this side of the Atlantic are £55 ($90) per year, or £16 ($26) for a single issue.
LOCAL SLOW NEWS: Some local examples of long-form or "slow" journalism are still around:
•The Chicago Reader still has long-ish cover stories, but the free weekly is so skinny these days (and coming with a major, glossy redesign) the stories are fewer, shorter, and far less quirky than they were in its heyday. But they're still there (www.chicagoreader.com). We're thrilled that the Reader just hired back senior writer Mick Dumke, after a year at the ailing Chicago News Cooperative.
•We love the long-form interviews Jerome McDonnell conducts with everyone from world leaders to activists to lowly workers on his WBEZ-FM (91.5) global-affairs radio show "Worldview," which airs weekdays from 12 to 1. More info at www.worldview.com.
•But our all-time radio favorite remains Chuck Mertz's "This Is Hell," airing Saturdays from 9 to 1 on WNUR-FM (89.3). For the past 15 years, Mertz has been conducting incisive, open-ended interviews with activists and others on the front lines of fights and issues overlooked by the mainstream media — all while injecting a welcome dose of lively humor into the often-depressing subject matter (each show includes a hangover cure). Hear the live stream at www.wnur.org, or find the podcast at thisishell.net.
•It's not exactly slow — the half-hour roundtable covers a week's worth of news — but Ken Davis' "Chicago Newsroom" is a step in the right direction. It's produced by Chicago Access Network TV and airs Thursdays at 6:30 on cable channel CAN TV19. More info at www.cantv.org/newsroom or chicagonewsroom.org.
— Cara Jepsen