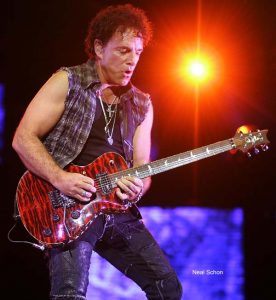 For any gate-receipt certainty these days, package tours are a must, especially those that are so well stacked they're impossible to ignore. For classic-rock fans, the idea of seeing Journey, Foreigner, and Night Ranger together in the same night certainly looked appealing on paper. But with significantly shifted lineups for those first two bands, only time would tell if the changes would translate.
 
Ticket sales certainly weren't sluggish at the cavernous First Midwest Bank Amphitheatre on July 30th and, aside from a few scarce spots on the top of the lawn, looked healthily filled. But chances are main point of attraction was the songs themselves rather than the people playing them, considering Journey's on its third lead singer this decade. For those needing a refresher, Steve Perry's long gone, as are replacements Steve Augeri and Jeff Scott Soto. That means YouTube discovery Arnel Pineda's leading the charge, and though he's adequate and energetic at fulfilling his duties, it just isn't the same.
 
Even so, the band still sounded solid digging out their '70s and '80s classics, still heavily rotated on radio. "Separate Ways (Worlds Apart)" and "Ask The Lonely" were ideal ways to open, defining the stadium-rock movement and having yet to be topped by any like-minded band Journey's junior. Tracks off the band's new Eclipse attempted to follow in that tradition, but inclusions of "City Of Hope" and "Edge Of The Moment" sounded respectively like a formulaic fist-pumper and a leftover from one of guitarist Neal Schon's solo CDs.
 
When it came to hitting the highest of high notes on the ultra-difficult "Lights" and "Faithfully," the 43-year-old Pineda offered up his best Perry impersonation and succeeded, though his non-stop bouncing during "Wheel In The Sky" and "Be Good To Yourself" distracted from the powerhouse playing of original members Schon and Ross Valory (bass), plus veteran Jonathan Cain (keyboards) and late-'90s addition Deen Castronovo (drums).
 
Nonetheless, the double-decker finale of "Don't Stop Believin'" and "Any Way You Want It" was so electric in delivery and explosive in terms of audience reaction that they successfully argue that Journey's songs supercede their singers. In other words, purists may be disappointed with the lineup changes, but there's still plenty of casual followers willing to rock out to this not-quite-perfect but more-than-competent edition.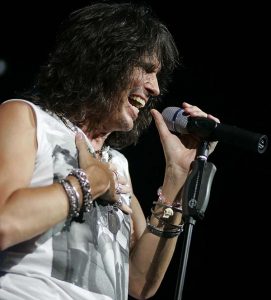 As for Foreigner, the original member aspect was even less (solely guitarist Mick Jones at this point), but singer Kelly Hansen (formerly of Hurricane) was a well tailored match for Lou Gramm (who's since gone solo while battling deteriorating health). Sounding exactly like the long-time leader but looking and moving more like Steven Tyler, Hansen interjected a livelier dose of rock into Foreigner's sometimes sanitary repertoire.
 
Given the new-found chemistry, it was a shame the group didn't bother to address anything from its first studio album in 15 years Can't Slow Down, although having only an hour was barely enough time to address all the hits. The band was best during full-throttled versions of "Double Vision" and "Cold As Ice," as opposed to increasingly dated ballads like "Waiting For A Girl Like You" and "I Want To Know What Love Is" (backed by a barely audible children's choir from Downers Grove). Extended codas on "Hot Blooded" and "Juke Box Heroes" turned the focus back to mighty, guitar-doused reminders of Foreigner's place in the AOR annals.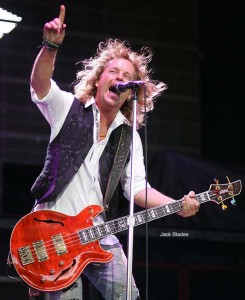 Openers Night Ranger (anchored by original co-singers
Jack Blades
and
Kelly Keagy
) had to contend with crowds shuffling to their seats, but those who showed up early caught new material from
Somewhere in California
, which marks a return to the group's '80s hard-rock roots after several failed stabs at a more modern sound. Songs like "Lay It On Me" sat well with those who liked harrowing harmonies (and hair that's even higher), though the group's most familiar hits, "Don't Tell Me You Love Me," "Sister Christian," and "(You Can Still) Rock In America," served as ample, albeit still cheesy, warm-ups to for well-received retro rock marathon.   
– Andy Argyrakis
Category: Live Reviews, Weekly