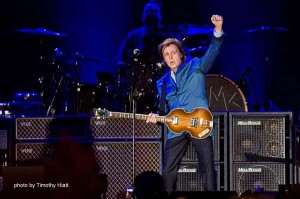 Paul McCartney managed to do in one evening what the Chicago Cubs haven't been able to do all season: he generated countless hits in Wrigley Field.
For a full photo gallery from Sunday's show, visit our photo site illinoisentertainerphoto.com!
Some 46 years ago, Sir Paul (or, as he was known back then, "the cute one") stepped onto a stage at the now razed Comiskey Park. The paltry, plywood structure barely looked strong enough to support the four lads from Liverpool and their smattering of gear. Not to worry. No one was going to hear them over the screaming anyway.
On a hot Sunday night, Macca, now the ripe young age of 69, strolled out onto a stage that encompassed the entire center section of Wrigley's outfield. By comparison, that platform from 1964 was a tugboat that was now pulling the Titanic for the first of a two-night residency.
And man, did he immediately seem up to the task. Armed with arguably the greatest songbook in popular music, McCartney dispensed a history lesson with a nearly three-hour marathon that covered everything from The Beatles, Wings, solo material, and various stops in between.
From the opening notes of "Hello Goodbye," it was immediately apparent that this would not be an evening of phoned-in moments or false sincerity. With a shit-hot band that has been backing him for close to a decade now, the former Beatle breathed new life into songs he has probably played hundreds of times. "Drive My Car" was precision pop, made elegant by its infectious simplicity, and "The Night Before" received a Beatlemania worthy reception.
During the spaces between songs, McCartney spoke with fondness about his days at the center of his times. When referring to the larger-than-life people he has shared his experiences with, it was by first names only ("Eric," "Jimi," and of course "John" and "George"). Not out of arrogance or the need to impress, just as matter-of-fact mates who also happened to be some of the most famous people on the planet.
But through it all, it was the music that mattered. When he settled down behind a baby grand, the years seemed to fall away. "Long And Winding Road" opened delicately and fragily, but slowly swelled under the heft of his backing players. "Maybe I'm Amazed" lost none of its impact, with McCartney's falsetto still stretching for the stars during to song's wordless coda. "Day Tripper," "I've Got A Feeling," "Helter Skelter," and a fireworks/pyro enhanced "Live And Let Die" were played with such ferocity it begged the argument that maybe the Fab Four also invented heavy metal.
So why do it still? With more money than a third-world country, McCartney could easily coast off into oblivion. The answer arrived in the form of sing along moments during "Hey Jude" and "Yesterday." The former featured tens of thousands of voices delivering their best "nah-na-nah-na's" and the latter evolved into the worlds largest campfire moment. The music has connected with so many people, it has crossed over from generation to generation. Judging from the look of transcendent bliss on McCartney's face, he was full aware of their effect. Apparently that's something that can't be bought, regardless of how much revenue your tour generates.
— Curt Baran
Category: Featured, Live Reviews, Weekly