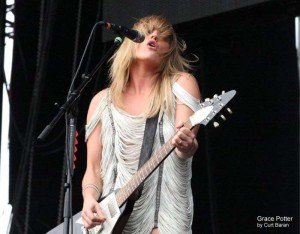 It's was 20 years ago today, Perry Farrell told the bands to play. O.K., maybe not to the day, but two decades ago the Jane's Addiction lead singer took a concept already popular in Europe and gave it his own alterna-twist. Huge music festivals like Reading and Glastonbury always bring in huge crowds on the other side of the pond. Lollapalooza took that same idea but then advanced it a step further, putting that bill of acts on the road. The results: huge piles of money and Generation X went from the underground to the mainstream.
View extended Lollapalooza photo galleries now at illinoisentertainerphoto.com!
A few years in, Lolla lost the plot. The booking became less adventurous, box office dried up, and the brand name was put in the mothballs. Fast forward to 2005. The undertaking moves itself to Chicago, re-brands itself as a three day Destination Festival, digs in at Grant Park, and oh do the people come. The 20th Anniversary version is the biggest yet, with all 270,000 tickets sold out in advance. Here's what went down:
Day 1
Lollapalooza 2011 is under way and Jenn Wasner is pissed! The Wye Oak singer/guitarist/keyboardist is struggling mightily with a faulty guitar amp. Songs are started and aborted. Then not one, but two, of her effects pedals blow out. Three songs into the set, technical difficulties are finally in the rearview mirror. "Should we start that one over?" she asks, and the crowd responds in the affirmative. "Holy Holy" finally drifts across the north end of Hutchinson Field accompanied by a look of relief on Wasner's face. Tragedy is narrowly averted.
The Vaccines deliver facelift-tight versions of songs from their eponymous debut. "Wet Suit," "Norgaard," and "If You Wanna" sounded sumptuous blasting across the city's frontyard. Although their performance seemed by-the-numbers at times, the sharp, melodic songwriting certainly lived up to its advance buzz.
When they married their hip-hop beat to chunky guitar riffs, The Naked And Famous had the ever-growing crowd eating out of their hands. The energy during "Young Blood" was manic and it translated into the audience, who seemed to hang on every note and seemingly knew every word to every song.
With her spangled dress and an oversized voice, Grace Potter & The Nocturnals came roaring out like an updated version of Ike & Tina Turner. As her band churned behind her, she vamped, twirled, and flashed an oversized smile with teeth brighter than the sun.
Teri Gender Bender, lead singer and guitarist for Le Butcherettes, stepped on stage in a proper dress and high-heels. She was also wearing an apron that looked as if she had just slaughtered a lamb. If ever there were a metaphor for what was about to transpire, a better one cannot be imagined. She seemed immediately possessed by the music, a demure smile soon turned into a demonic scowl. She twitched, thrashed, contorted and let the music play her. The songs, drawn mostly from the debut Sin Sin Sin were dark but spacious, which left plenty of room for the violence and aggression contained within. By the end of the set, her practical shoes were catapulted into the audience and the drummer emptied the contents of his stomach all over his kit. This was the set of the weekend.
Allison Mosshart of The Kills stalks the stage like one of those panthers you see at the zoo. It hangs close to the bars hoping, waiting for a chance to strike at something. Unlike her feline friend, Mosshart is actually allowed out of confinement. Behind her, guitarist Jamie Hince gives her a skuzzy-blues soundtrack for her feline tendencies, something that's more hunt than it is dance. Given that the duo are more accustomed to dark nightclub settings, the bright sunlight made their set feel even more dangerous, like a killer was standing right next to you.
High art met metal during the afternoon set from A Perfect Circle. Maynard James Keenan (who also fronts the metal band Tool) stood stoic, back, and to the left of his band. The stage resembled a war-zone bunker. Netting backdrops framed ammunitions trunks that served as platforms for keyboards and a drum kit. Fitting really, since Keenan seemed to be singing about the end of the world.
Conor Oberst, the singer who performs under the moniker Bright Eyes, has been saying for some time now that this was the last run for his band. Whether or not it's true, his set in the late afternoon certainly felt like a retrospective, a collection of should-have-been-hits from a catalog that has acquired some surprising heft through the years.
Day 1 headliner Coldplay seemed determined to convince an audience that they still mattered. Fortunately for them, they seemed to be preaching to the converted. Frontman Chris Martin was a powder keg of limitless energy. Good thing, since his band seemed more than happy to defer to him. At one point during a solo, Martin appeared to push guitarist Jonny Buckland to the forefront of the stage, a polite way of saying "There are three other band members, you know."
Like other superstars, Martin was obviously the attraction. His presence was infectious. Whether he was pounding on an acoustic guitar or planted at an upright piano, all eyes were glued to him. It didn't hurt that he was armed with a songbook filled with user-friendly sing-alongs and a falsetto that make the ladies swoon.
— Curt Baran
Category: Featured, Live Reviews, Weekly