Everything Hits At Once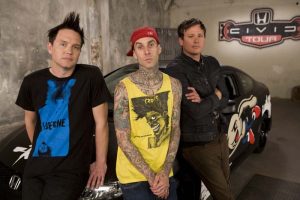 Tom DeLonge has noticed the smoke billowing from his hat. "Oh, my god," he exhales. "I just got some gas in my truck – I'm in San Diego and Orange County is an hour away; L.A.'s two hours away.
Appearing: Saturday, August 20th at First Midwest Bank Amphitheatre in Tinley Park with My Chemical Romance and Honda Civic Tour.
"I'm in Orange County every day rehearsing and then every day next week I'm in L.A. rehearsing, then I'll be on tour, turning the record in for Blink-182, turning the Angels & Airwaves record in for mixing two weeks from now, have the movie coming out on the 10th, the album for Blink dropping in September, the Angels & Airwaves double album coming out November 11th. It's just insane. And it never was meant to be like this. We've been working on the movie forever, and we knew we needed to have it out by this time period, but then the Blink record got pushed back a couple times, and it just happened to be right on top of each other."
To quote Josh Ritter, Man burning at both ends?
"The answer is yes," he laughs. "I'm so thankful for everything, but I'm losing my mind."
When Blink-182 and the Honda Civic Tour rumble through Tinley Park later this month, don't be surprised to see DeLonge doubled over, gasping for air. (Unlike you or me, he declines to moan about wife and family obligations as well.) And though it's not as if the Blink reunion just shot out of nowhere . . . wait. Did he say "movie"?
"Yeah, a lot of people know that when Blink broke up, I created an art project called Angels & Airwaves." (Notice how he doesn't label AVA a "band.") "We basically grab larger human themes and tackle them in different mediums. So this one, the album Love, it's a double album [the second half of which releases this fall] and it's all about human connection and consciousness, and one of the ways we were communicating that theme was on film."
DeLonge is very aware of how that must sound. "I think the first thing people say is, 'So you guys are acting in it – that's gonna be a lame movie.' No," he laughs, "we're not acting in it. Then they go, 'Oh, so you're trying to rip off Pink Floyd. And you're gonna do it horribly.' No, it's not like that. It's not a rock opera. It's a real film, a science-fiction film, and it's an Angels & Airwaves production."
He then describes an elaborate visual feast that veers from "Space Oddity" and 2001 back to young ("young-er at the time – it ended up taking five years, because we didn't have the funds to do it quickly") director Will Eubank's parents' property outside Los Angeles, where they hand-built a space station in the frontyard, and then a Civil War-era coal mine in the back. On paper, it comes off like a B-movie farce, The Flaming Lips' Christmas On Mars without the disclaimer of Wayne Coyne's involvement. But DeLonge avers that it's very serious, and essential to AVA's whole concept.
"The way it worked with our band," he explains, "is we would set up these large, thematic parameters of what we wanted: we wanted to tackle human consciousness and human connection; we like the idea of space because it's infinitesimal; we wanted it to be meditative, cerebrally paced, like an art film. As we're making this thing, we'd be working with Will on 'where are we going next?' We're able to have a live event where we beam the movie to 500 theaters, perform music, the story goes deeper into these other pieces that we filmed outside of the movie and we'll be able to show those before the movie starts, and do live Q&A. So what it is, is a multimedia event, which is good for us because Angels & Airwaves is a multimedia project."
The mind reels. Is there music at all?
"It's a score, yeah," he says. "We were basically trying to figure out are we too self-indulgent? Or do we just score it and get the hell out of the way? That's one of the things I'm most proud of, is that I don't have a scene in any of it. It's not about us, it's about the idea, the message. That's truthfully what we started Angels & Airwaves to be. I think a lot of kids at first are like, 'What the hell are they doing?' You think of Blink, where we're running around 'Fuck you! Fuck you! We're rebels! I got kicked out of high school! I'm in a punk band!' And all of a sudden I come out [like this]. But I think when all the pieces start falling in place, the brand – the brand, not the band – Angels & Airwaves and the message is much larger than the band itself. And that's why we didn't make music in the film about us."
DeLonge doesn't intend to demean Blink-182; for him, they're an incredibly important yin. But as compliments go, reunions are not one. They signify a capitulation, at best an acknowledgement that everyone else was right all along. No matter the band, no matter the accomplishments, no matter the taste for music history, the words "get back together" always signal retreat: You were, in fact, more than the sum of your parts. To DeLonge, it's slightly different because, well, let's see: Blink were only apart for four years, which is like a weekend; Angels & Airwaves will operate simultaneously; and forget absence: near-death makes the heart grow fond.
Blink-182 drummer Travis Barker nearly died in a 2008 plane crash. Nearly. Didn't. Others did. Four of six on board were killed – including Barker's assistant and also a bodyguard – while the only other survivor, DJ AM (Adam Goldstein), was found the victim of an overdose, most likely related, a year later.
On the surface, DeLonge couldn't very well make films and albums and graphic novels about human connections and then ignore the two people he'd seen every day for a decade-plus. But the crash, as he told the Chicago Tribune last year, iced it: "If that accident hadn't happened, we wouldn't be a band," DeLonge said. "Plain and simple. That was fate."
While the heavens were pointing the way back, he was very concerned with continuing what he'd started with AVA. "When we got back with Blink, the first conversation was there's room for everyone to do anything. That really has held true, and I didn't think it would. I'll be honest: I really didn't think that would be respected, because one of the primary reasons for the breakup was, outside of just being worked to death, when I did Box Car Racer [a 2002 project that included eventual members of AVA], it created a rift. I didn't believe that having side-projects was going to make things healthier. But it was fine: Travis went out and did a solo record [Give The Drummer Some]; Mark's now producing a TV show ["Hoppus On Music" on FuseTV]; everyone really stuck to it. Every once in awhile there's conversations that go on silently here and there about this and that, but that's just like any other business. If you hired a sales guy and he goes out selling for another company, you want to have a conversation: this guy's not focused. I think we've kept it very normal, very business-like. I was talking to a guy at our label about The Police, because he had worked with them, and he said we did one thing he thought we could never do, and that was make another record. 'I can't figure it out. Tell them to make another Police record!' I'm pretty stoked that we did figure it out."
It goes against instinct, but the members of Blink-182 did grow up. True, they're the honorary house band for the American Pie generation – forever to be remembered running around the "What's My Age Again?" video completely naked – and managed to debase the art of the dick joke. DeLonge boasted to The Aquarian in 2009 that "Mark drinks now," so they both get wasted before taking the stage. But he also discovered that the only way he could go through with it was by being an adult.
"There are a lot of differences," DeLonge says about himself. "The biggest was humility. When you're in your 20s and you're in this major rock band, that's all you are and that's all you know. You're the guy from this band, that's your thing. When I started Angels & Airwaves, I thought it would be easier. But it's not. A rock 'n' roll band has to earn every piece of its credibility and every fan that it has. The first six months, it was the most sought-after thing to steal on the Internet, the Angels & Airwaves' first record because it was so hyped up. But after that, I had to earn my fanbase. I remember thinking, 'Oh my God.' I had to rebuild who I was.
– Steve Forstneger
For the full story, grab the August issue of Illinois Entertainer, available free throughout Chicagoland.