Speaking In Codes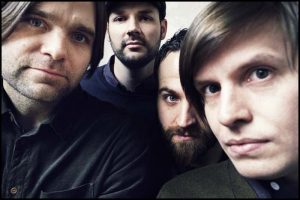 Back when Death Cab For Cutie had only begun peeking their heads above the underground, their annual Chicago stomping ground was the venerable Metro.
Appearing: Thursday, August 25th at UIC Pavilion in Chicago, with Frightened Rabbit.
Though the Washington-based indie rockers have since graduated to headlining arenas and festivals (including Lollapalooza in 2006), their most recent trip back in May stopped on North Clark Street and served as a showcase for material from the new Codes And Keys (Atlantic), plus a chance for the band to reconnect with their roots.
"I think that whole tour was kind of an underplay tour, or some would call it a warm-up tour," suggests guitarist/keyboardist/producer (and sometime solo artist) Chris Walla. "It was really a nice chance for us to get back to some of our favorite places, because all of our favorite venues hold around 700 to 1,300 people. We've spent more time playing in venues like Metro and those like it all over the country than any other size club. It was a good opportunity to field-test the new songs and play a bunch of the old songs to remember what it was like to be a rock 'n' roll band."
In the three years since the group's last full-length album, the members have been busy with a multitude of projects, from 2009's The Open Door EP to a slot on the The Twilight Saga: New Moon soundtrack and a slew of personal endeavors. Most visibly, frontman Ben Gibbard tied the knot with actress Zooey Deschanel (Elf, (500) Days Of Summer), while Walla used the hiatus to produce projects by The Lonely Forest, Someone Still Loves You Boris Yeltsin, The Thermals, and The Tragically Hip's Gordon Downie.
"I've learned how to balance [both worlds] by not being in a relationship, which is the shortest and easier answer," he lets out with a laugh. "It's pathetic and sad, but between the band and being a producer, I live two semi-monastic lifestyles. I'm kind of a process hound these days since everything happens with such immediacy in the world of computers. [With Codes And Keys] I really wanted to try and slow down the process and take the impulsivity out and put the consideration in. In the process of doing that, it required a kind of removing the electric guitars from the first part of the record-making process and focusing on making melodic and harmonic beds out of instruments that don't want to make melodic or harmonic beds. We made sure that we weren't committing to anything too quickly. That was our biggest goal, to change all the tools in the tool box and give it a different perspective of how and why we were committing to songs for a record. It's more of a record than a recording."
Just take a listen to the delicate, shoegazing nature of new cuts like "Some Boys" and "Underneath The Sycamore," which find the group's already close chemistry clamping down even tighter. Add in the chilling and sublime soundscapes of "You Are A Tourist" and "Portable Television" with the aggressive shades of "Doors Unlocked And Open" and the methodical approach certainly paid off. The 11-track journey also benefits from a plethora of warm harmonies and lyrics that longtime listeners are likely to find relatable, even if they're sometimes inspired from second-hand sources.
"I think [Ben's marriage] is a huge part of the record, but it's not all of the record," notices Walla of Death Cab's primary lyricist. "They're certainly not all autobiographical, even though he's writing from the perspective of characters. It's easy to assume with a singer/songwriter that when he says 'I,' he means 'I the writer' even though that's not an assumption you'd make about an actor in a film or if you were writing a story. I'd say [he's coming from a personal place] 30-percent of the time and 70-percent of the time it's not so literal."
Continues Walla, "Codes And Keys means a lot of different things. It sort of ties into the process of making the record – the idea of access and immediacy being behind a string of numbers, followed by the pound key. It's so much of our lives, whether we enter a code before we access our bank account, our cell-phone account, our storage locker, or our apartment. It's a protective barrier, but it's also a door. The pound key is kind of like the thing that gets you through a lack of human interaction into a place that resembles home or something you need to have access to make your home a little bit better."
For the rest of this summer, the band won't be spending any time at home. The Codes And Keys tour will make a second sweep across the States to unveil the band's latest round of provocative wordplay and warm sounds. Though an arena presentation will never be able to make up for the intimacy of a club, there are a few advantages during this leg, including a tighter sound and longer setlist.
"Even though the Metro show was great, it was a little ramshackle in spots, but we're certainly playing everything better at this point," contends Walla. "By the time we come back to Chicago, I think we'll be doing a few more old songs and also a few more from the new record. There will certainly be more production, and while I haven't seen it yet, I'm told there will be lots of lights."
– Andy Argyrakis
For the full interview, grab the August issue of Illinois Entertainer, available free throughout Chicagoland.