Q&A with Yo La Tengo's Ira Kaplan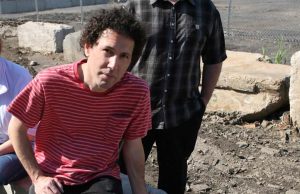 IE: Did the Wheel Of Chance [a device that will dictate the structure of this month's Yo La Tengo tour] come out during your Hanukkah shows?
Ira Kaplan: No. The wheel will be making its debut. We only spin it once. It'll tell us what to do for the first 40 minutes. I think there's eight different possibilities for the first set. It'll determine format – not song-by-song – so we're just preparing ourselves for any eventuality.
IE: So it's nothing too complicated.
IK: It's actually fairly complicated. [Laughs.] The spinning of the wheel won't be complicated.
IE: Where did the idea come from?
IK: I can't say specifically, but I think [Kaplan's side-project] Condo Fucks had a big role in it, in that we kind of did and didn't want to go on tour and were looking for a way that we could do that. Similarly, The Freewheeling Yo La Tengo was another thing we enjoyed, but didn't want to do another tour that way right away. [Yet] we also didn't feel like hanging it up in the closet.
IE: Have you seen other bands attempt anything similar?
IK: Not that I can think of. People have referenced the Elvis Costello show where he would spin the wheel. I never saw it, but my understanding was that had actual songs on it, and they would spin it to determine the next [one]. Our wheel will probably be smaller. We can't afford those big production values.
IE: It'll have value after the tour.
IK: Actually, we're borrowing it. It's a good deal for us. [New Jersey-based radio station] WFMU has a wheel that they use at their record fair and fundraising marathon.
IE: So you need to protect it.
IK: Yes, there will be no Who-style antics. At the last show, we won't finish with "My Generation" and destroy it.
IE: What about next for the band, new-music-wise?
IK: I think one of the reasons we're not working on songs constantly is we like what happens when we take a break and then come back. Interrupting the process shakes things up in a way we enjoy. In that sense, not writing/not working on songs is sort of a form of working on them. It's always leading its way in as meandering a way as we dare – to writing new songs. I have a feeling that's coming when we give the wheel back to WFMU.
Yo La Tengo play Metro on February 4th. Popular Songs (Matador) is available now. Q&A by Steve Forstneger. Photo Credit: Jesper Eklow