One Nation Under A Groove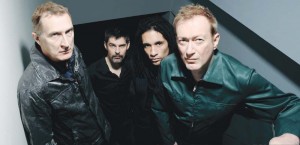 Very few bands can ever take credit for redefining a scene or cultivating a movement, but when it comes to late 1970s trailblazers, Gang Of Four is certainly at the top of the post-punk list. Aside from plugging in with politically charged authority, the group employed a rarely implemented blend of rock 'n' roll, funk, and soul, creating a danceable amalgamation that influenced everyone from the Red Hot Chili Peppers to R.E.M. and INXS on down. While the foursome from Leeds was unstoppable during its first five years together, breaks between albums grew further and farther between, making it seem like the innovators disbanded altogether by the mid-1990s. But that all changed in 2005 when a wave of revivalists like Bloc Party, Franz Ferdinand, and The Rapture forced the foursome to come out of retirement and reclaim what was theirs on a collection of re-recordings called Return The Gift.
Appearing: February 11th at Metro in Chicago.
"Someone was phoning us every other day asking when we were getting back on the road, and I guess we allowed them to talk us into it," notes guitarist Andy Gill. "We hadn't played the songs in such a long time, but once we got in the studio and started playing them again, we got very excited about it. The first track we tried was 'Not Great Men,' and it felt like we had written it yesterday. The fact that it felt fresh was the impetus behind wanting to record them and the idea took off from there."
Aside from the album and subsequent tour reconnecting the band with fans, it also sparked the idea for the principle members to begin writing again. However, in keeping with Gang Of Four's random release cycle, the results didn't appear until the tip of this year with Content (Yep Roc). It finds the nucleus joined by bassist Thomas McNeice and drummer Mark Heaney, who've since replaced the retired Dave Allen and Hugo Burnham.
"I think we must be one of weirdest in the world in terms of chronology, because of all these bizarre gaps [between albums]," admits Gill, noting the 16-year delay. "I don't know what it is, but it seems to me that maybe the reason we keep going is because we haven't used up all of our ideas, which some bands do too quickly. For quite a long time, I was concentrating on record production and working with other bands [Red Hot Chili Peppers, The Jesus Lizard, The Futureheads, Michael Hutchence], which was enormously interesting. But at the end of 2008, I told Jon [King, vocals] I wouldn't produce anything else and just do Gang for awhile. So, from that point on, the momentum was going and it picked up speed to the point we realized we were making a new record."
A scan through the 10 tracks reveals a functional bookend of sorts to their now classic 1979 breakthrough, Entertainment! For starters, brooding vocals, angular guitars, and wiry rhythms abound, all wrapped around provocative lyrics, plus a raw and urgent production style that should have no trouble leaping to the stage.
"Jon and I never discussed direction or what we were trying to do because it's almost second nature and it's more instinctive that way," relates Gill. "I think any good Gang Of Four song is essentially something that's designed to be performed live instead of falling in love with studio production. That's the way the band started, and I think on occasions we've forgotten that and lost our way, but now no one needs to say anything because everything we do is designed for the stage. This record is almost a sister album to Entertainment!, because the songs have these little stories or dramas where the main character is doing one thing and the other voice is the narrator or telling another story."
Take for instance "She Said You Made A Thing Of Me," which deals with a relationship where the man and woman create idealistic visions of one another, though neither is able to reach the other's pedestal. And then there's the sputtering "Do As I Say," which is situated in the 17th century as it finds Gill adapting the persona of a torturer and King playing a character about to be burnt at the stake. Though it adopts a tongue-in-cheek tone, the group uses it as commentary on modern political witch hunts.
— Andy Argyrakis
For the full interview, grab the February issue of Illinois Entertainer, free throughout Chicagoland.