Deliverance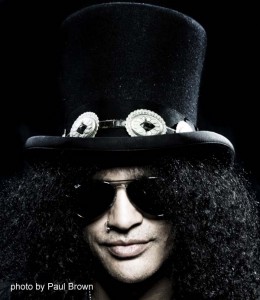 It was one of those great, possibly apocryphal rock 'n' roll tales that are almost too incredible to be true. But for awhile there a few years ago, at least in metal circles, it was certainly making the rounds. And it went something like this: At the height of his guitar-slinging fame with Guns N' Roses, top-hatted impresario Slash (nee Saul Hudson) was in the habit of playing a very mischievous trick on unsuspecting pizza-delivery boys. When they arrived at his Hollywood abode, supposedly, the door would be slightly ajar. Naturally, they'd peek inside with a timid "Hello?" and that's when the axeman and whoever happened to be partying at his aptly dubbed Snake Pit would relax their grip on Curtis, the full-grown pet cougar he'd raised since it was a cub. Several shrieks later and Voila! Free pizza!
Upon hearing the fable now, at a wise old 45, Slash can't keep from chuckling at the sheer absurdity. Yes, he owned Curtis for several years, but he's since relocated him to a friend's game preserve when GNR touring proved too time-consuming. "And that's really funny, but it's not true," he clarifies. "Because I don't abuse animals for my own amusement like that. But I've gotta say, it's weird how over the years shit gets twisted and blown out of proportion." There's a grain of truth in the fable, however, he adds. "There was a time when people would just show up at my place, unannounced, which I really didn't like. So I'd just let 'em walk in, without telling 'em that Curtis was around, and he'd begin to stalk them, wanting to play." Watching their faces blanch ghostly pale was almost better than free Domino's. "But that's what they get – they really should've called first. So that was it – there were no pizza-delivery people harmed in that process."
But it's quite a telling metaphor. Where does the over-the-top legend of Slash – who went on to anchor two more post-GNR combos, Slash's Snakepit and Velvet Revolver, before finally going solo with Slash, his new star-studded album – dovetail into the down-to-Earth reality? Sure, he's penned an autobiography; recorded with Bob Dylan, Alice Cooper, Ron Wood, Bad Company, even Ray Charles and Michael Jackson. He's a playable character in the "Guitar Hero III: Legends Of Rock" video game; appeared in animated form on Robert Evans' TV series "Kid Notorious"; and he's recently moved into film-soundtrack work, adding guitar parts to The Wrestler and composing the entire score for the upcoming indie This Is Not A Movie. But somewhere along the way, the man became, well, responsible.
And Slash has heard it all before. How your 20s are intended for carnal pleasures (Guns N' Roses, after all, were initially nicknamed Lines N' Noses for their hard partying ways). And how your early 30s are when you grow up, leave Bacchanalia behind, and turn more toward the spiritual. "But it wasn't like that for me," he swears. "Maybe when I was about 38 was when I started to finally assess my mortality. But before that, I was totally career-driven. That was always my first and foremost passion, so all the, uhh, other stuff was basically entertainment. And there was a point where I just wasn't getting off on any of the stuff I used to do. I couldn't get high enough, and it just became too time-consuming and miserable. I was just really focused on music all the time, and anything else eventually proved too distracting." He pauses, then sighs in 20/20 hindsight. "But it took years to get out of that, though, to really get it sorted out."
– Tom Lanham
For the full interview, grab the February issue of Illinois Entertainer, free throughout Chicagoland.