It's How You Clay The Game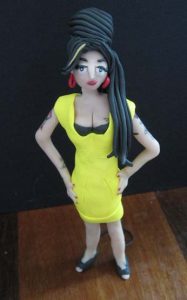 Coldplay may have shamelessly copied The Beatles' military regalia at the 2009 Grammys, but Taylor Zitman can go one better – she hand-designed polymer clay miniatures of John, Paul, George, and Ringo, draping them in neon-colored Sgt. Pepper costumes after meticulously mixing hues to get the right amount of saturation. For Zitman, female rock stars in heavy eye makeup are a scream to sculpt, too. The 22-year-old Chicagoan recreated Amy Winehouse's caked-on eyeliner, sharply arched eyebrows, and swirling beehive hairdo – in clay. A black lace bra elevated the figure's cleavage, and Zitman penned on tattoos with a Sharpie. Winehouse was a challenge though – it was the height of her "Rehab" fame, and she literally fell down several times while being molded. Zitman sculpted three Lady Gagas ("she's got a lobster on her head, what could be more fun than that?"); for one, she dreamed up a lace design by pressing miniature Victorian mirrors into clay. The 5-to-7-inch rock star sculptures cost $50 to $70 each, depending on detail, and are sold online at www.taylorzitman.com and www.etsy.com. Want the Black Eyed Peas? Kanye West and Taylor Swift? Contact Zitman, and she'll design delightful depictions.
– Sarah Louise Klose
Sonic For Da Yutes
Shadow music club Mojoes Coffee House existed in an all-ages netherworld for several years before closing last year. In its Orland Park home, it became a must-play for thousands of pop-punk and Warped-ish acts who didn't overestimate the chances of younger fans getting to a show in the big bad city. Good news for it and clubs of its ilk, the city of Joliet passed an ordinance that paves the way for a split-use club to open on the site of the old Venue Lounge. The council mandates that minors be kept from any area where alcohol is served, which is different from how Chicago venues like Metro, House Of Blues, and Schubas operate when under-21s are present. Joliet's distance should also benefit bands, whose fans previously split between suburban and downtown shows and lessened their draws in eyes of promoters.
You'll Wanna Sit For This
The run-up to the Bears/Packers game became polluted by stories of season-ticket holders cashing in on their seats, leading to unanimous denunciations from other Bears supporters for not being "true fans." At IE, we've grappled with true fandom for too long. It's already a dicier issue in music, now that individual non-fans/non-professional scalpers have come into the game with a profiteer's eye. A new online tool called Seatquest, however, will help you keep to your budget by searching multiple resale sites simultaneously to find the best price among similar seats at the same event, as well as the cheapest overall tix in case the promoter has released more. You'll still pay for your sloth on the onsale date, but at least you can keep from getting completely pantsed – and be a dues-paying true.
Ben A Long Time
"The only downside to playing a fest like this," Ben Weasel told IE before Riot Fest in 2009, "is being in a situation where you've gotta rub elbows with these clowns backstage." He was referring to other bands and scenesters whom he can't stand, while explaining that he wouldn't be hanging around high-fiving. If anyone told him to start his own festival in response, the pop-punk took it to heart and built it into the three-day weekend beginning May 27th, hence known as Weasel Weekend at Reggie's Rock Club. The event celebrates the 25th anniversary of Screeching Weasel, and stars such other bands as Shot Baker, Chixdiggit, The Queers, and even a cameo by Weasel's Ramones-oriented side-project, The Riverdales. Three-day passes ($72) are available at www.ticketfly.com, though once a single show sells out the weekend passes disappear.
— Steve Forstneger