Riviera, Chicago
Saturday, March 27, 2010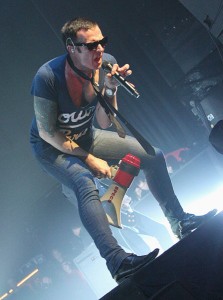 After a five-year hiatus, which included the formation of several new groups, a couple of solo albums, and several stints in rehab, the '90s' other grunge pioneers Stone Temple Pilots have reunited for a tour and a new album.
Click here for a full Stone Temple Pilots picture gallery from photographer Curt Baran.
Frontman Scott Weiland is clean and sober, and all four original members are performing together again. After kicking things off last month at South By Southwest, STP made their sixth stop on the new tour at The Riviera on Saturday night, to a sold-out crowd who wanted three burning questions answered: Will they play the old stuff? Is their new stuff any good? And is the clean-and-sober version of Weiland any good? By the end of the 90-minute set, the answers were clear: Yes. Sorta. Sorta.
STP were more than happy to please the crowd by rocking through their classics, opening with "Vaseline" and "Crackerman," slowing down for softer hits like "Creep" and "Big Empty," belting out favorites "Plush" and "Interstate Love Song," and closing with "Sex Type Thing," "Dead And Bloated," and "Lounge Fly." The short, two-song encore included lesser-known "Piece Of Pie" and big hit "Trippin' On A Hole In A Paper Heart." The only noticeable omissions were "Big Bang Baby" and anything by Velvet Revolver.
As for the new stuff, it was a mixed bag. The chorus of "Bagman" (an ode to the guy who delivers the "bag of goods") sounded too much like a rip-off of the old cheesy "Batman" theme song, but "Huckleberry Crumble" and "Hickory Dichotomy" proved the band can still rock a decent melody.
And the verdict on Weiland — he proved he's still the showman, as he strutted, slithered, and danced all over the stage, donning a low-cut v-neck T-shirt, cowboy boots, and scarf. He can still bring the vocal power, though is low-growls are now replaced with more of an odd vibrato sound. But some of his charisma is still there, and he still knows the art of letting the crowd handle vocal duties at all the appropriate moments.
The band did show a few signs of rust, as a couple of the songs had sloppy endings, and Weiland actually tripped over some stage stuff and fell mid-song a couple of different times. The truest sign of their maturity (i.e. old age)? They opened and closed the show by bringing their kids out on stage. (The 1991 version of STP would be appalled!)
 
— Carter Moss
Category: Live Reviews, Weekly