Allstate Arena, Rosemont
Saturday, March 27, 2010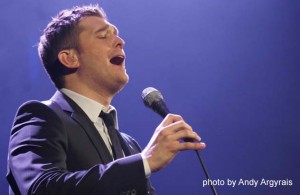 If it seems like Michael Bublé exploded from obscurity to being able to sell out arenas in a finger snap, that's because the 34-year-old was instantly embraced for his ability to juggle traditional ideals with contemporary pop appeal. Raised just as much on Frank Sinatra and Bobby Darin as Michael Jackson and '80s pop, the crooner has entranced multiple generations, much like Harry Connick Jr. did a decade ago, but with an even more likable personality.
As for his voice, it's undeniably pleasant (even if it doesn't have the horsepower as his forebearers), and with charm to spare, he held the sold out Allstate Arena in the palm of his hand for nearly two hours. Touring in support of his latest chart-topping mix of reimagined standards and originals, Crazy Love (Warner Bros.), Bublé was backed by a 13-piece big band with a stage resembling an old Las Vegas revue.
At least half the setlist echoed the vintage vibe, starting with the horn-slapped standards "Cry Me A River" and "All Of Me," along with jazzed-up renditions of "Mack The Knife" and "I've Got The World On A String." He admitted the arena setting was less than ideal than previous residencies in town (such as last tour's stop at the Auditorium Theatre), but tried to make up for the distance with a seated set anchored by a cozy but vanilla version of "Georgia On My Mind."
Bublé also dealt with the distance between the stage and stands by jumping in the crowd with members of a capella opening act Naturally 7 to visit a b-stage as flash bulbs snapped incessantly. Yet the hands-down highlight of that segment was an acoustic take on his pop-to-country crossover hit "Home," which was preceded by a line of "Free Bird" and "Every Rose Has Its Thorn" to add some comic relief to the song's otherwise longing tone.
Thankfully, Bublé doesn't take himself too seriously and spent most segues cracking jokes, including the announcement that he was engaged, and acknowledging most of the guys who were dragged by their girlfriends or wives probably had money on him being gay. Later on, an overly enthusiastic female fan shouted over the clean-cut performer with a request to go backstage, to which he quipped he'd never interrupt her 7-Eleven shift and that an all-access pass was out of the question. There was even an out-of-character dance interlude that found the singer mimicking Jackson's "Billie Jean" with surprising accuracy.
Of course, the bulk of Bublé's recent popularity stems from "Haven't Met You Yet," which was greeted with joyful howls while providing a testament to his catchy songwriting outside the covers world. An encore segment suggested he was still more comfortable with interpretations, turning soulful for the seductive "Me And Mrs. Jones" and back to lite come "Song For You." Although it's unclear if Bublé can maintain this all-ages popularity, the performance proved he possesses enough talent and even more magnetism to continue to mesmerize.   
— Andy Argyrakis
Category: Live Reviews, Weekly