Vic Theatre, Chicago
Wednesday, April 21, 2010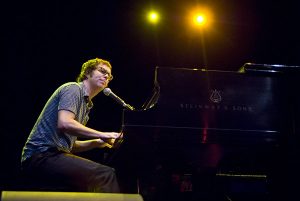 Anyone who's ever seen Ben Folds perform live in front of a crowd of die-hard fans (and really, is there any other kind of Ben Folds fan?), or is even just familiar with the piano man's solid 2002 live disc, Ben Folds Live, knows full well the events are notorious for crowd participation.
From the singer's recent tendency to engage in comical Chat Roulette interactions onstage (unfortunately absent from Wednesday's performance), to leading attendee-backing harmonies during selections like "Not The Same" (very much present during Wednesday's set), Folds' audiences, at their best, can take the place of the performer's touring band. Such was the case on the last night of a three-night stint at the Vic, where the songwriter took the stage with little more than a piano for most of his set.
Prior to last week's Vic mini-residency, Folds had hit town last year in support of 2008's excellent Way To Normal, turning in performances peppered with weaker b-sides and outtakes from that album's sessions. Thankfully, Wednesday night's set avoided Normal's lesser deep cuts, and instead delved into the entirety of Folds' musical career, including a generous portion of material from the various Ben Folds Five eras. Especially represented was that group's swan song, 1999's The Unauthorized Biography Of Reinhold Messner, with "Don't Change Your Plans" a reminder of the album's combination of melancholy and whimsy. "Army," meanwhile, found Folds stepping away from his piano momentarily to lead the crowd in chanting during the song's bridge. And "Narcolepsy" was enhanced by Folds softly muting his piano's strings while playing, as the song's softer moments hushed the room.
Similarly quieting was the emotionally resonant "Still Fighting It," off Folds' 2001 solo outing, Rockin' The Suburbs. From the same effort, the spirited "Annie Waits" balanced out some of the night's gravity, with Folds banging on the keys energetically as the song built. And swooning deep cut "Songs Of Love," off odds-and-ends collection Supersunnyspeedgraphic, served as a reminder of the strength of even his lesser represented tracks. Much like the evening overall served as a reminder of Folds' impressive catalog throughout the years — a library that, with the right selections representing it, conveys a range of emotion and apathy, with which one can easily sing along.
— Jaime de'Medici
Category: Live Reviews, Weekly