Lincoln Hall, Chicago
Friday, April 30, 2010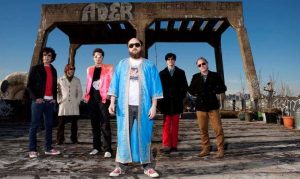 Bands whose sounds bank on their influences often become paradoxes, mimicking ambitious music but not the ambition.
For a long time, The Apples In Stereo frontman Robert Schneider mined nearly every angle of sunshiny, '60s pop, airbrushing it occasionally with modern guitar sounds and claiming ownership with his childlike voice. Though critical shorthand lumped him in with the Brian Wilson cult called Elephant 6, Schneider was less overtly junkshop — but he was equally reverential.
After 15 years, he has taken his power-pop fetish and gone modern. What this will do to his own fans is anyone's guess, but Travellers In Space And Time (Yep Roc) giddily grasps the '80s synth revival and recognizes that people like to dance more than the pogo. Being a rockist, a lot of the sounds end up more like Styx than Studio 54 — but it's better than "Disco Duck." And it also rips his band out of the grips of the past.
Openers Generationals offer little hints of their New Orleans provenance on Con Law (Park The Van). Where their hometown is a melting pot, the album plays like a sampler, frolicking in synth pop and brass, piano and shimmering guitar rock. Like The Apples, Generationals remain centered and selective, though it certainly wouldn't hurt them to step out on a branch and teeter a bit.
— Steve Forstneger
Category: Stage Buzz, Weekly