Schubas, Chicago
Friday, February 26, 2010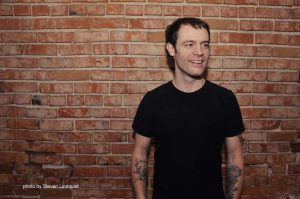 Why is this man smiling? No clue. Singer/songwriter Rocky Votolato — if his work is any gauge — has lost just about every love-based battle he's fought, something that hasn't changed for True Devotion (Barsuk), out this week.
Maybe he's itching to get out on the road, a chance to put a band behind songs that are packed with acoustic forlornness in the studio. Devotion fits neatly within his catalog drawer, which isn't to say it's depressing but even movie producers figured out that at some point Rocky has to win. Opening with a grey cloudscape of strings, the sky breaks only to reveal Votolato alone with his guitar on "Lucky Clover Coin." "Fragments" and "Eyes Like Static" bring scrappy Rocky to the plate, a reminder of what Ryan Adams was like when he thought it mattered, and seem the likeliest candidates for The Replacements treatment live. But in times like these (fourth albums), you seek more than refinement of a craft. No one's asking for Dark Side Of The Moon, maybe just a little less Dark Side.
Smoking Popes' Josh Caterer opens.
— Steve Forstneger
Click here to download "Red River."
Category: Stage Buzz, Weekly