Congress, Chicago
Wednesday, November 4, 2009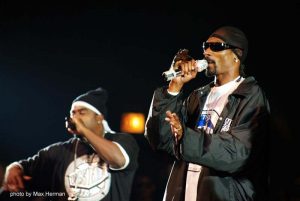 Upon leaving Snoop Dogg's Wonderland High School Tour show at the Congress, a middle-aged, hippie-looking man approached me a block from the venue and asked me if I was at the concert – the one with "the music from California." Admittedly, the long-haired guy wasn't familiar with Snoop's recent material, but the fact that he was down with the Long Beach rapper's music at all said enough; over the course of 15 years, Snoop has reached beyond your typical, youthful hip-hop demographic.  
After gathering one of the largest crowds at Lollapalooza this year, it was clear that people still give a damn about what Tha Doggfather does. Although, as his Congress show started to wind down, it was strange to look around and see the venue barely half full. Maybe it was just too late for a weeknight, but as the show crept past midnight and Snoop asked the crowd, "Is Chi Town in the house?" the response wasn't that rousing. Despite the crowd gradually thinning and growing tired, Snoop and his LBC cohorts brought their gangsta classics with the signature laid-back and blunted demeanor.  
Snoop is one of hip-hop's more mellow performers and while keeping cool he dropped a handful of his original hits ("Ain't No Fun," "Gin And Juice") and new singles like The Dream-assisted "Gangsta Luv." The surprise of his set was how many guests stepped on stage to help him out. With constant backing from Dogg Pound crewmembers Daz Dillinger and Kurupt, the trio performed the controversial G-Funk hit "New York New York" while affiliate Lady Of Rage made an appearance with her defining single "Afro Puffs." Even local lyricist Lupe Fiasco stepped in the spotlight for a minute.  
While Snoop's set was a chill, family affair, the other big acts on the bill, Redman and Method Man, took the opposite approach: keep the energy full stream by themselves. Whether it was Meth running on top of the fans' hands kung-fu flick style or Redman diving off a gigantic speaker into the crowd, this duo doesn't let things get dull for a moment. All the extreme action doesn't mean they're masking mediocre music. Early '90s uptempo solo hits, from Red's "Time 4 Sum Aksion" to Meth's "M.E.T.H.O.D. Man," along with bouncy collective cuts like "Da Rockwilder" and "Y.O.U.," were all delivered precisely and were well received. And while performing '90s material, when Redman eagerly asked, "Do you remember that shit?!" everyone had no problem responding with an adamant, "Hell yeah!"  
As different as Red and Meth's set was from Snoop's, there was a lot of nostalgia going around – enough to make even casual passersby like the man who approached me after the show get excited to think back to another era.
– Max Herman
Category: Live Reviews, Weekly