Rosemont Theatre, Rosemont
Monday, November 9, 2009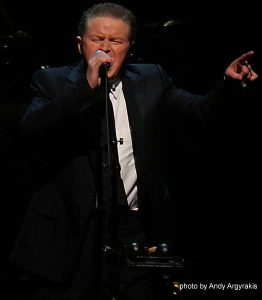 Between the Eagles' double album Long Road Out Of Eden, two years on the road supporting it, and a solo retrospective with tour in tow, Don Henley's been especially active as of late. Currently on the road behind his first career-spanning set, The Very Best Of Don Henley, this outing focused on crests from the past 40 years, and while all the major milestones were addressed, it dug deeper than the mere obvious.
Henley threw the audience for a loop by opening with covers of "I Put A Spell On You" and "September Song," two standards interpreted as laid-back, Southern rockers that embarked towards Rod Stewart's turf, but were much more engaging than the Mod's croaking through the classics. In fact, this Eagle hasn't lost any of his vocal luster, made evident throughout the group's harmony-heavy "One Of These Nights" (backed by a six-piece band and two female background singers) or his own anti-Hollywood acoustic sentiment, "The Last Worthless Evening."
"New York Minute" served as an early example of Henley's ingenious storytelling, tracing all the intricacies and insanities happening simultaneously in the Big Apple. He further juxtaposed themes of political and childhood nostalgia during "The End Of The Innocence" (though Bruce Hornsby's piano accompaniment was sorely missed), while delicately sifting through relationship complications across "The Heart Of The Matter."
After dusting off those ballads, the tone turned unexpectedly to new wave for a cover of Tears For Fears' "Everybody Wants To Rule The World," which actually came across like it was one of Henley's own. He kicked up some additional dust on the never-out-of- style tabloid tale "Dirty Laundry" and brought some warmth back to the Windy City with "The Boys Of Summer."
Even when kicking into high gear, Henley remained cautious with his stage presence, but he was especially animated (at least for him) during an extra amplified version of "All She Wants To Do Is Dance." But the always assertive finale "Life In The Fast Lane" got all the baby boomers on their feet and clapping, which paved the way for an Eagles-centered encore.
"Hotel California" packed even more punch than the band's Hell Freezes Over rendition and the classic still came across as a sunny beach strummer with some of rock's most unforgettable lyrics. His typical show closer "Desperado" once again highlighted the higher end of the entertainer's register and also found him wincing with some of the most visible passion of the night.
As an added bonus, everyone returned with a funked up rendition of "I Will Not Go Quietly" that smoked with soul and sizzling guitars. It would've been a fitting conclusion, but Henley dug up the rarely performed Eagles holiday greeting "Please Come Home For Christmas" to officially close. Considering Thanksgiving hadn't come yet, the sentiment felt slightly early, but marked a welcome ending nonetheless to one of Henley's most spontaneous and varied tours since stepping out on his own.
— Andy Argyrakis
Category: Live Reviews, Weekly