Schubas, Chicago
Sunday, November 15, 2009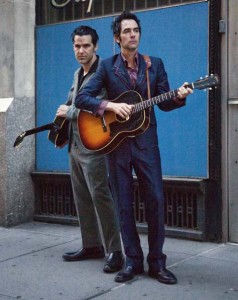 It would be shocking if Heavy Trash's Jon Spencer and Matt Verta-Ray were up on daylight savings time. Neither of them seems to know what year it is.
The duo's third album in four years (on top of decades in separate gutbucket NYC bands like Pussy Galore, Jon Spencer Blues Explosion, Madder Rose, and Boss Hog) is another rockabilly/punk blues junk mix that wouldn't look odd jumping off the pages of a comic book. Midnight Soul Serenade (Fat Possum), like most of Spencer and Verta-Ray's past work, however, isn't reverent revival. Though the creepy "Gee, I Really Love You" and "The Pill" might hark to some low-grade, zombie-greaser '60s B-movie, Spencer's slapback howl and corroded guitar leads (will he ever learn to play that thing?) broadcast him in full color.
The Bama Lamas open.
— Steve Forstneger
Category: Stage Buzz, Weekly