Cubby Bear, Chicago
Friday, September 25, 2009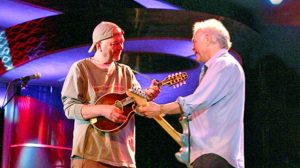 Despite being a hitching post for a number of big-time '60s and '70s rockers and an important torchbearer during country rock's lean years, few people really know Poco, much less know to seek specific info about the version popping up at Cubby Bear on Friday: Who's in it?
When Buffalo Springfield crumbled in the '60s, Stephen Stills joined David Crosby and Graham Nash, Neil Young occasionally enlisted in CS&N while being a prolific solo artist, and Richie Furay grabbed band engineer Jim Messina and studio musician Rusty Young with the idea to pursue music in the vein of "Kind Woman." Though routinely acclaimed, Poco never saw much commercial success despite a dedicated touring base and the odd Top 40 single — not too different from the Flying Burrito Brothers.
It wasn't long before Messina fled to dominate soft rock with Kenny Loggins, and even Furay got bored and joined Souther-Hillman-Furay Band with ex-Byrd and Burrito Chris Hillman (post-Stephen Stills' Manassas — see the inbreeding here?). Timothy B. Schmit was neither an original member nor around for very long, as he'd be plucked by the Eagles (who recorded songs by another of the S-H-F Band, JD Souther). But Rusty Young, originally along for the ride because Furay liked how he played pedal steel, soon had the reins and shared them with Paul Cotton, who wrote perhaps Poco's best-known song, "The Heart Of The Night."
It's the latter pair who lead the charge into Wrigleyville, on the strength of a 2006 live album called The Wildwood Sessions.
— Steve Forstneger
Category: Stage Buzz, Weekly