Various clubs, Champaign-Urbana
September 16-19, 2009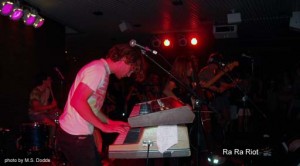 Begun in 2005, Pygmalion takes advantage of assets that often remain unrelated:  the University Of Illinois' 40,000 students; two cities — Champaign & Urbana — located within a three-hour radius of Indianapolis, Chicago, and St. Louis; a thriving local music scene; two prominent record labels, Polyvinyl and Parasol; several clubs and Krannert Center For The Performing Arts. This year, Seth Fein, the curator and mastermind behind Pygmalion, expanded the Fest to more than 100 acts in 15 different venues.
Carefully scheduled and running on time — nearly impossible feats for music and musicians, yet both accomplished at this festival — it was still only possible to catch all the performers at Pygmalion if one suspended the natural laws of space and time. Consequently, picking and choosing whom to see became an activity in its own right, part individual sleuthing and part party game.
If this festival can be taken as a snapshot, then what emerged after the three days is that current indie rock is predominantly folk-based. There were exceptions  — RJD2, Lucero, The Delta Kings, Elsinore, and The Hood Internet come to mind — but across the Fest folk served as the basis for a surprisingly large number of the acts. But it was folk music stuck in a paradox. Folk begins and ends with the song; it is nothing if not the bearer of ideas using melody. Melody, however, was in short supply at Pygmalion 5.0. So was a structured song. It's hard to know how much to make of that. It could be that a strong song is out of favor with 20-somethings, or it could be that its under-representation was merely a zeitgeist of the festival. It could even be a harbinger that rock as an art form is losing steam. Whichever, there it was — or, rather, wasn't — and it brought in its wake a lurking somnolence in the performances. For all the jumping around Ra Ra Riot did, for all the passionate, electronic maelstrom of Low, there remained something tentative about the performances. Few artists seemed willing to go for broke on stage or in their music; most seemed a little worried they might embarrass themselves. At the end of the day, this wasn't life or death for most of the bands. Inescapable was the subtext: "If this doesn't work out, there's always grad school." While that may be extremely useful as a counter to parental worries, it doesn't make for galvanizing art.
My Brightest Diamond
Krannert Art Museum, September 18th
A week earlier, in the Dessner Brothers' piece The Long Count that was shown as part of the Ellnora Guitar Festival,  Shara Worden (aka My Brightest Diamond) was a revelation. Her classically trained voice, radiant stage prescence, and ease with boundary-less creativity worked well within the structure of that piece. As a solo act with acoustic guitar and electronics, however, Worden was not nearly as successful. Her material was unstructured, redolent of notes that pinged and vocals that soared, the result vaguely, but repeatedly, recalling the theme song from Star Trek. With not a melody to be found or a reason for any of it to be, her show edged into self-indulgence.
The Delta Kings, The Duke Of Uke And His Novelty Orchestra
Mike-N-Molly's, September 19th
Two guitars, drums, bass, The Delta Kings' straight, roots-based rock comes from a local band that has been there and done that for almost 14 years now. Compelling songs and shrewd guitars backed by a tight rhythm section. (Disclosure: I am married to the lead singer of the Delta Kings.) The Duke are a charming, seven-piece local band playing carefully crafted songs that wouldn't be out of place on a street corner in New Orleans (not surprising given the tuba and uke.) Four pitch-mindful singers, unexpectedly creative rhythms, and deceptively difficult material keep this from being cute or gimmicky, in spite of their name.
Low, Good Night & Good Morning, The Hathaways, You And Yourn
Channing-Murray Foundation, September 19th
Sounding vocally like X minus the attitude, Minnesota's Low plays electronic folk (dubbed "slowcore" by some; "soundscapes" by others). Their songs have a dramatic arc, sonorous harmonies, and heavy chords. It can sound dirge-y at times — that can happen when folk gets thunderous — but they do what they do well. Good Night & Good Morning, a Chicago trio of two guitars and vibes, crafted repetitious, soporific music that was as soulless as it was tuneless. The appeal of the vibes player using a bow and one of the guitar players keeping his back to the audience the entire set soon wore off. A local acoustic sister-brother duo of guitar and Peruvian charango, The Hathaways' strength is the lovely, assured interplay of their voices on thoughtful, generally midtempo songs. Kate Hathaway creates an intriguing rhythm effect on the charango, although whether because there was a tuning issue or the fret of the charango is so small, it sometimes resulted in noticeably wrong notes. As for You & Yourn, so queasily sincere, you just want to recreate the scene in Animal House where John Belushi smashes Stephen Bishop's guitar against the wall. Only with theirs.
The Hood Internet, Jookabox, Maps & Atlases
Canopy Club, September 19th
Two guys, two computers, a mix board and a microphone, The Hood Internet gets to take the best of other songs and mash them into new ones. Whether or not that constitutes originality is debatable; some of their mash ups brought new perspectives to the songs; others turned them into a glorified cover band. Regardless, they were committed to the audience having a good time, and it did. Drum & bass, tape-looped, hip-hop, rhythmic mania from Indianapolis, Jookabox is the musical project of David "Moose" Adamson. High energy (this was the hardest working band at the Fest, hands down), fun, original and clever. Chicago's Maps & Atlases do math rock for those who like a little complexity with their rhythms. Interesting, the complicated song structures nonetheless get tiring after awhile. Try as they might — and the drummer and bassist do try mightily — math is just not sexy. Even with rock. And atlases.
Iron & Wine, Ra Ra Riot, Princeton
Krannert Center For The Performing Arts, September 19th
An acoustic show, this was just Sam Beam and his guitar on a bare stage. Beam's songs tend to be sophisticated, with an elegance to the lyrics that can be absorbing. Yet the performance lacked dynamic variation or textures. The result did no one any favors: the songs became interchangeable; the set unremarkable. It could have been any singer/songwriter in any basement coffeehouse in any college town. Lots of notes, lots of kinetic energy, absolutely no grit, Syracuse-based Ra Ra Riot makes  vaguely '80s-sounding new wave music for the naughts.  For all their cavorting and stomping, there's something ineffably dweeby and adolescent about this band, as if they've watched too many John Hughes movies and came to the conclusion that the Breakfast Club is a role model. It didn't help matters any that the verse-chorus-verse pop/rock song form seemed to defeat them. Princeton are a glorified suburban California high-school band that hasn't enough dirt to even be called "garage." My companion summed them up as follows: "If they work really hard, they'll be as good as a second-rate Herman's Hermits." I said second-rate Weezer, but I was feeling generous.
Elsinore
Exile On Main St., September 20th
A mismatch between band music and band name if ever there was one, Champaign's Elsinore evokes nothing Shakespearean, Elizabethan, or pastoral. Rather, this is indie rock as it began: strong songs played well, compelling vocals, exciting. 
— M. S. Dodds
Category: Live Reviews, Weekly