Double Door, Chicago
Saturday, September 26, 2009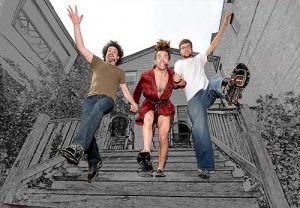 All summer, in anticipation of Oh My God's The Night Undoes The Work Of The Day (Split Red), I've been writing in "File" about the Chicago band's massive, organ-ish keyboard attack. Well, the album arrived. No organs.
That's not entirely true. Their cover of The Fixx's "One Thing Leads To Another" is a girthier version of the '80s nugget driven by their freight-train synth. But most of what you'll notice about The Night is in its undoing. The guitars layered on 2007's Fools Want Noise have been unplugged; instead of helping build momentum they now underscore a fragility on opener "My Own Adventure." A thick bass begins to tunnel under "My Prayer," but almost immediately the effect recalls the tinkling love songs of Mates Of State more than Fools' Foo Fighters-style anthems.
Luckily Oh My God don't sound out of their league, even if they're playing a slightly different sport (polo vs. lacrosse). "I Don't Think It's So Funny" has a lazy, nearly narcotic sway, while "Baby, Dream" gives blue-eyed soul a much needed facelift. How this sits with fans should be interesting, but given a strong set like this they can always pick up some new ones.
The Record Low and Brighton, MA open.
— Steve Forstneger
Click here to download "My Own Adventure."
Category: Stage Buzz, Weekly