Old Town School Of Folk Music, Chicago
Saturday, September 12, 2009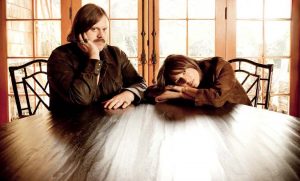 Matthew Sweet and Susanna Hoffs dropped by The Old Town School Of Folk Music for a pair of gigs last Saturday night in support of the two Under The Covers albums they've recorded as Sid & Susie, a side-project that features their renditions of vintage hit songs and cult classics.
Even though Volume 1 was released in 2006, the duo are only now touring. That might have been due to conflicting schedules since Sweet released his latest solo effort, Sunshine Lies, just about a year ago and keeps busy as a producer, while Hoffs tours with The Bangles and just started recording a new CD with them. The 7 o'clock show was only the third time Sweet and Hoffs have performed as Sid & Susie in concert, and while there were some false starts and forgotten lyrics, they nevertheless charmed the audience. 
Working with Illinois-based guitarist Paul Chastain, Sweet and Hoffs served up an off-the-cuff, entirely acoustic show that at times seemed to slip into an episode of VH1's "Behind The Music." At the start, Sweet had told audience members to feel free to ask questions, and the invitation was embraced a little too enthusiastically. But even if the extensive conversations caused a few songs to be dropped, they also resulted in some interesting anecdotes and humorous responses. When a woman claimed that Chastain had once been in her basement, Sweet quickly asked, "How'd he get out?"
In a way, the unplugged approach answered critics who have described the songs on the Covers CDs as being too faithful to the originals. Hoffs handled most of the lead vocals as she and Sweet concentrated on the 1970s songs from Vol. 2, opening with "I've Seen All Good People: Your Move/All Good People" by Yes. She also sang Carly Simon's "You're So Vain" and Little Feat's "Willin'." Sweet, joking that he was more used to big, electric guitars that cover everything up, sang lead on Mott The Hoople's "All The Young Dudes" and  Fleetwood Mac's "Second Hand News."
Throughout the performance, Sweet and Hoffs combined for some impressive harmonies. They tapped into the 1960s for Neil Young's "Cinnamon Girl" and "Everybody Knows This Is Nowhere," from Vol. 1. The only non-cover material came during the second encore, with Sweet singing lead on "Byrdgirl," from Sunshine Lies. Overall, the Old Town School concert went so well, it raised the question as to whether Sweet and Hoffs should have gone acoustic on the CDs as well.
— Terrence Flamm
Category: Live Reviews, Weekly