Schubas, Chicago
Saturday, September 19, 2009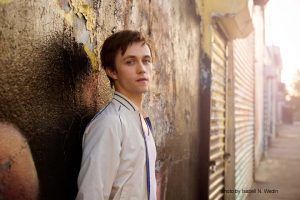 Despite having a name most Scandinavian metal bands would die for (SON-der LARE-kuh), this diminutive Norwegian has battled to reconcile his lolli-pop with his taste for electric guitar.
Anyone who has seen Sondre Lerche live can testify to his fretwork, but most of those people are young women and he doesn't want to be John Mayer. His desire to be taken seriously led to 2007's Phantom Punch (Astralwerks), which was packed with too much Arctic Monkey business even if his breezy simplicity was usually just another track away. This year's Heartbeat Radio (Rounder) isn't a retreat, but Lerche certainly sounds more comfortable texturing his foreign-exchange strolls with semi-jazzy leads than the other way around.
Following his soundtrack work for Dan In Real Life, Lerche sounds smitten by the sort of plush, adult pop that puffs up romantic comedies like cream filling, though because the orchestrations are partly the work of High Llamas' Sean O'Hagan it's not the sellout you might think. That said, this is still Lerche and his every word feels like a Euro smoothy's attempt to get you into bed — or at least a closet. Though it seems he can write and perform songs like "Like Lazenby" and the nearly David Cassidy-like "Words & Music" in his sleep, Lerche's charm and indomitable musicianship make it almost impossible for him to mail things in.
JBM (Jesse Marchant) opens.
— Steve Forstneger
Category: Stage Buzz, Weekly