Bottom Lounge, Chicago
Sunday, September 20, 2009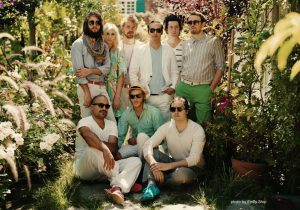 Being yacht-deck-dressed white musicians with African beats whipped up quite a backlash for Vampire Weekend last year, but not enough, apparently, to deter Fool's Gold.
The name is enough of a groaner, like some margarita-impaired Carnival Cruise house band. Then there's the Hebrew lyrics, the language from a land not quite popular from the music's Mali-to-Eritrea roots. Lastly there's the weekender connotation of the bring-a-friend, two-day recording blitz that yielded this three-years-in-the-making, self-titled debut for Iamsound.
Yet apart from some of the backing vocals, you'll be stunned.
Los Angelinos Luke Top and Lewis Pesacov conspired with members of We Are Scientists, The Fall, Glasser, and repeat-offenders Foreign Born to give this set more than the faux-safari groove it promises. Ignoring such touchstones as Fela Kuti, Orchestra Baobab, Amadou & Miriam, and Ladysmith Black Mambazo (the last one not by choice) Fool's Gold credibly syncopate their eight offerings, if erring on the side of single-string, West African guitar licks. To the untrained ear, Top's wail could be anything from griot to raï. "Nadine"'s brass section underscores global consistencies, hinting at Stax one second and Afrobeat the next. The polyrhythms build relentlessly, though it's when the Western elements butt in on "Yam Lo Meshech" that the scope of this project comes into view.
Blk Jks headline.
— Steve Forstneger
Click here to download "Surprise Hotel."
Category: Stage Buzz, Weekly